Get Versatile & Long Travel Universal Test Machines
200 Series Electromechanical Universal Test Machines
---
200 Series Single Column Test Machines are ideal for tension and compression applications where test force requirements are up to 5 kN (1,125 lbf) with speeds available to 2,500 mm/min. 200 Series load frames serve situations where table space is limited.
This series is recommended for high travel or high extension test applications such as rubber tensile testing and tensile testing of medical devices such as catheters.
Top Features for the 200 Series
Capable of tension, compression, bend, flexure, peel, shear, stress relaxation, and creep tests.
Choose controller software, load frame type, actuator stroke/force/speed
Speeds up to 2500 mm/min (100 in/min)
Up to 1400 mm (55 in) travel
Load accuracy 0.5% of indicated load
Up to 5,000 Hz data acquisition rate
Automatic transducer recognition
Digital position encoder with sub-micron resolution
Constant speed, constant load rate, position and load control
12 month warranty
Meets or exceeds national and international accuracy standards for materials testing system
Models
Max Force
Max Travel
Max Speed
240-250
1.1 kN (250 lbf)
1040 mm (41 in) or
1400 mm (55 in)
1500 mm/min (60 in/min)
240-750
3.3 kN (750 lbf)
1040 mm (41 in) or
1400 mm (55 in)
2500 mm/min (100 in/min)
240-1125
5 kN (1,125 lbf)
1040 mm (41 in)
2150 mm/min (85 in/min)
Ready to configure your test machine?

Contact us by completing the form to help you select the right machine.
Ready to configure your test machine?
Contact us to help you select the right machine.
Contact Us Now!
200 Series Frames by Application
Family

Common Applications

Common Standards

240

Adhesives, plastics, thin-film, foam, rubber, metals, wire, textiles, ceramics, composites, paper
Tensile, compression, peel, flexural bend, shear, tear, stress relaxation, creep
Medical devices, biological tissues, electronics, packaging, products & components

ASTM D412 - Tension Testing for Rubber and Elastomers
ASTM D624 - Tear Strength of Conventional Vulcanized Rubber and Thermoplastic Elastomers
ASTM D638 Tensile Testing for Plastics
ASTM D790 Testing for Flexural Properties of Plastics and Insulating Materials
ASTM D882 - Tensile Testing Thin Plastic Sheeting
ASTM F88 Seal Strength Testing Equipment for Flexible Barrier Materials
ISO 37 Tensile Rubber Test Equipment
ISO 10555 Tensile Testing of Sterile Single Use Intravascular Catheters
And many more industry standards
How to Select a Universal Test Machine in 4 Easy Steps
Step 1 - Select your frame
Step 2 - Select your controller software
Step 3 - Select your accessories
Step 4 - Contact us
When you're ready to complete your system, contact us, and an application expert will help you optimize your system to your test requirements and budget.
Step 1: Select Your Frame
240 Family Electromechanical Universal Test Machine
Force: 1.1 kN, 3.3 kN or 5 kN (250 lbf, 750 lbf or 1125 lbf)
Travel: 1040 mm (41 in) or 1400 mm (55 in)
240 Family tabletop single column universal test machines are available in three models with different forces, travel and speed capabilities. Each model includes a high-resolution load cell sized to test needs.
Step 2: Select Your Controller Software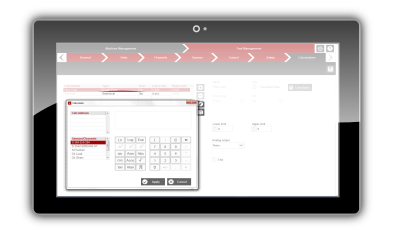 Pre-configured solutions meet customer specifications and budget for a wide range of test applications. Industry standard-specific software modules, enhanced features and custom calculations are just a few of the options to choose from with Newton.
Step 3: Select Your Accessories
Choose from a wide variety of test accessories for a wide variety of purposes. These accessories include grips, environmental chambers, transducers, and sample preparation items. With these accessories, you can have confidence that your specimens will be tested consistently, correctly, and will yield ideal results.
Step 4: Contact Us
Contact us to confirm your configuration, request prices, and place your order.