Get the Most Affordable Torsion Test Machines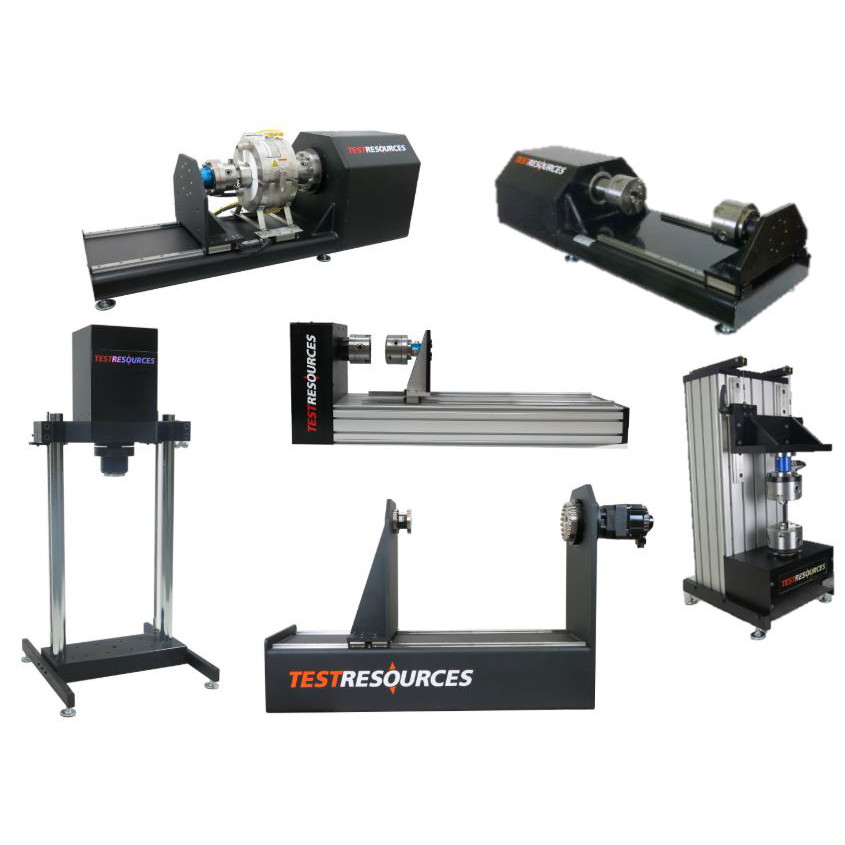 Choose from 7 different frame styles with 100's of configurations
---
Choose from a wide range of torsion capacities with 7 frame styles and 100's of configurations which allows you to optimize your testing capabilities and pick exactly what you need. Our extensive product line of torsion testers gives you the options you need. Each torsion testing machine configuration includes your choice of a test controller, easy setup test software, test table with rotary actuator or motor, power source, torsion test fixtures, and torque and angular position sensors. Which means you get the exact system that matches the specifications you need and fits within your budget.
Torque test machines measure the torsional strength, stiffness and stress-strain properties of materials and products which are the ideal solution for biomedical, automotive, and aerospace applications. Torsional testing machines are used to simulate real life service conditions and to check product quality for products such as drill tool bit tips and medical devices, screws and other fasteners, wire, and much more. Get started by deciding if you need a static system or a dynamic fatigue system.
160 Series Static Torsion Testers
| | |
| --- | --- |
| Family | Torque Capacity |
| 160T1 | 2 to 10 Nm (18 to 90 in-lb) |
| 160T2 | 20 to 100 Nm (177 to 900 in-lb) |
| 160T3 | 300 to 1130 Nm (2700 to 10,000 in-lb) |
| 160T4 | 5650 Nm (50,000 in-lb) |
560 Series Dynamic Fatigue Torsion Testers
| | |
| --- | --- |
| Family | Torque Capacity |
| 560T2 | 1 to 20 Nm (9 to 177 in-lb) |
| 560T3 | 30 to 100 Nm (270 to 900 in-lb) |
| 560T5 | 110 to 200 Nm (970 to 1770 in-lb) |
Choose from two different torsion test technologies: electromechanical and electrodynamic, which perform static, dynamic and fatigue tests. Our torsion testers are available in both horizontal and vertical orientations. Due to our modular design, we can customize each machine to match your unique test objectives.
High torque gear or hydraulic are available upon request.
Common Torsion Applications
Wire
Metals
Bone Screws
Crankshafts
Luer Lock Connectors
Tools
Bottle Caps
Switches
Intramedullary Rods
Torsion Springs
Fasteners
Biomedical Products
Automotive Components
Aerospace
Common Torsion Standards
ASTM A938 Torsion Testing of Wire
ASTM D7860-14 Torque Retention for Child Resistant Packaging
ASTM F543 Metallic Medical Bone Screws
ASTM F1717 Spinal Implant Constructs
ASTM F2346 Characterization and Fatigue Testing of Spinal Intervertebral Disc Prostheses
IEC 888 Zinc Coated Steel Wires
ISO 7800 Torsion Testing Wire
You Can Pick the Right Torsion Test Machine in 4 Easy Steps
First, select your frame (Step 1) by series, then complete your system by selecting your controller software(Step 2) and accessories(Step 3). Choose from a wide range of controller software packages, grips, fixtures, chambers, video extensometers and more, are all designed to perform thousands of ASTM, ISO, EN and DIN industry standard test methods.
When you're ready to complete your system, contact us(Step 4), and an application expert will help you optimize your system to your test requirements and budget.
Start by Selecting a Series
Learn more about each series so you can make the right decision.
Type: Electromechanical Gear
Torque Capacity: 2 to 5650 Nm (18 to 50,000 in-lb)
The 160 Series Electromechanical Torsion Test Machines are best for static and quasistatic cyclic tests. As an affordable option to torsion testing, we find the 160 Series to be a popular choice.
Type: Electrodynamic Direct Drive
Torque Capacity: 1 to 200 Nm (9 to 1770 in-lb)
560 Series Electrodynamic Torsion Test Machines include high speed motors and actuators that are capable of performing static, dynamic and fatigue testing applications. The 560 Series is capable of more sophisticated dynamic fatigue applications for users with fatigue-life testing requirements.
---