You can upgrade any brand test machine!
---
Are you using outdated and unsupported software? Have you considered upgrading your test machine but don't know where to start? Well, look no further! Avoid lengthy and unexpected downtime by upgrading your existing test machine.
After years of service, you might find that your test system doesn't meet your testing requirements anymore. That is very common as testing capacity expands, standards change, or electronic components breakdown. You should not have to replace your test system just because it's older and the technology is out-of-date. We give you the option to simply upgrade your current machine with a new controller so that you can benefit from new technology and up-to-date innovations. It doesn't matter if you have a TestResources test machine or another brand, we can help. You can upgrade your static electromechanical and hydraulic test machines and also servohydraulic fatigue test machines manufactured by InstronⓇ, MTS/SintechⓇ, UnitedⓇ, Tinius OlsenⓇ, and other manufacturers.
Contact us if you are considering to upgrade your test machine. We will help you decide if an upgrade is right for you or not. We will compare a variety of different options based on budget, requirements and future goals. We have many different types of upgrades, from controllers to accessories and everything in between.
What is a Test Machine Upgrade or Retrofit?
Upgrades and controller retrofits allow you to extend the life of an existing electromechanical and servohydraulic test machine. Upgrading enables you to take advantage of the latest technology and advances in computing technology and changes to testing standards. High maintenance costs, increasing periods of downtime, and parts obsolescence are the primary reasons that you might choose to retrofit or upgrade your system. In many cases, reconditioning your system controller is the best choice, while in other cases, selecting the trade-in option provides a better solution.
How Much Does it Cost to Upgrade a Test Machine?
Upgrading your existing test machines can save you as much as 75% compared to purchasing a brand new machine. Think of what you could do with all that savings?!
Which Test Frames Can be Upgraded?
We have experience with static electromechanical and hydraulic test machines and also servohydraulic fatigue test machines manufactured by InstronⓇ, MTS/SintechⓇ, UnitedⓇ, Tinius OlsenⓇ, and other manufacturers. Upgrades are available based on the type of test equipment you are using. Since electromechanical test frames and components tend to have a long life but computer and software platforms tend to become outdated or unsupported in ten to fifteen years, you can simply upgrade instead of replacing the entire system.
Ready to upgrade you test machine?
Talk to one of our Application Engineers to get started.
Upgrade With New Controller Technology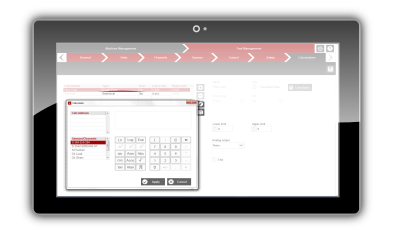 New capabilities, increased efficiency, and simplified testing.
There are significant benefits of renewing your test system with new digital controllers and taking advantage of new technology and advancements in software design. TestResources' powerful hardware, software and control platform gives you the ability to purchase only the capabilities and features you currently need while allowing you to easily and affordably expand the system's capabilities to meet your future needs.
Our controller gives you the option to simply upgrade your current machine with a new controller so that you can benefit from new technology and up-to-date innovations. Solutions that deliver increased efficiency, accuracy and fit a wide range of applications with maximum flexibility.
Upgrade Using New Accessories
In addition to upgrading your existing test machine with a new controller, you can upgrade using our wide range of options, including grips, fixtures, chambers, video extensometers and more, are all designed to perform thousands of ASTM, ISO, EN, DIN and JEDEC industry standard test methods.
Simple twist-thrust biaxial tests help evaluate the mechanical performance of tubes, screws, connectors, wires and bottles. TestResources solves these applications in multiple ways that depend on the timing of your torsion add-on. Our systems are inherently modular and flexible which allows you to add the torsion channel upfront or in the field in a short amount of time. Contact us to discuss your options.
Interested in learning more about upgrading your existing machine? Contact us!
Any Brand Test Machine
Our controllers, grips and fixtures will work with any brand of test machine from TestResources, Instron®, MTS®, Tinius Olsen® and other brands of machines.
Upgrade Your Facility With a Brand New Machine
Don't need to upgrade your machine but wish you could double your testing capabilities? We can set you up with a brand new test machine with new fixtures and controller technology. Ask us about our trade-in program!
Used Test Machines
TestResources is recognized globally for delivering reliable, low maintenance and budget-friendly solutions. Although we primarily sell new test machines, we sometimes offer used test machines with upgraded controllers. See our availability of used, reconditioned and retrofitted tensile testers, bend test machines, peel testers, shear test machines, compression testers, etc.
Test Machine Services
You can get on-site calibration, new operator training, refresher training, emergency repair and replacement parts which ensures that you can start testing faster and stay testing longer.
Machine Repair & Refurbishing
We have been supplying test machines since 1998 and provide the lasting support you need. Our products last and we will provide the support you need to keep them going. Most of our customers are still using the machines they bought over 20 years ago! At TestResources, our technical support engineers are the same experts who repair the products. Contact us today and our experts will get you back up and running as quickly as possible.
Calibration
We can help you make your re-calibration as convenient and fast as possible to avoid lengthy downtime. Learn more about calibrations
Support
TestConnect, included as part of our support toolset, delivers powerful communication capabilities that bring our most experienced support engineers even closer to your organization and operators. TestConnect reduces wait times, shortens support times and saves you money. Learn more about support
Quote
Jeff and Kurt along with the install team were a pleasure to communicate with and did a great job minding all of the needed details. Our equipment is actually usable now and is significantly improved from the original setup we had.
---
Have a machine that needs a little TLC? Let us upgrade or repair it for you!
MTS® is a registered trademark owned by MTS Systems Corporation®. Instron® is a registered trademark owned by Illinois Tool Works, Inc®. Tinius Olsen® is a registered trademark owned by Tinius Olsen Corporation®. Zwick® is a registered trademark owned by Zwick Roell AG®. United® is a registered trademark owned by Industrial Physics®.