Get the Highest Performance Planar Biaxial Test Machines
Choose from electromechanical, electrodynamic and servohydraulic systems
---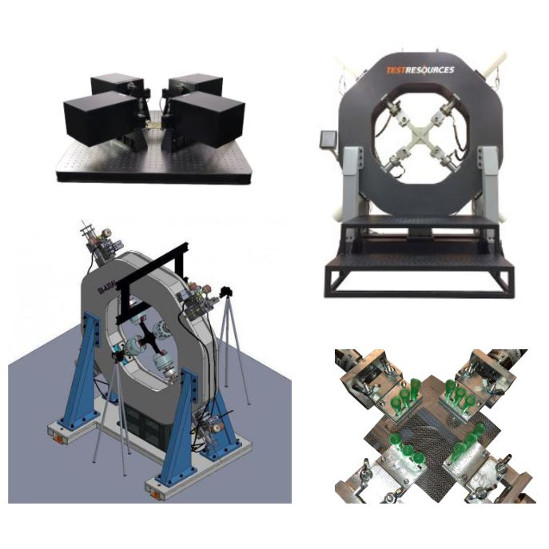 Planar biaxial test machines are increasing in popularity because of their unique ability to generate in-plane stresses that replicate multiaxial real-world stress states. Each planar biaxial system includes four actuators mounted opposite of each other on two axes with each actuator independently controlled by a four-channel servo controller that ensures independent and synchronized control of motion, strain or load. Each actuator is controlled to work with the other three actuators to replicate desired biaxial stresses.
Our planar biaxial test systems can be configured with contacting extensometers or a suitably configured DIC (digital image correlation) video camera, which makes strain measurement control possible. The majority of our applications are best served with all-electric actuators. Servohydraulic actuators are recommended for very high loads and for demanding fatigue testing applications. However, if your application requires relatively low forces and your tests are quasi-static or below 15 Hz, then electromechanical and electrodynamic actuators tend to be favored compared to servohydraulics.
Series
Type
Max Force Capacity
174 Series
Electromechanical
50 kN to 200 kN
(11,250 lbf to 45,000 lbf)
574 Series
Electrodynamic
100 N to 30 kN
(22 lbf to 6,750 lbf)
974 Series
Servohydraulic
50 kN to 2MN
(11,250 lbf to 450 kip)
Ready to configure your planar biaxial test machine?

Contact us by completing the form to help you select the right machine.
Why would you choose electromechanical or electrodynamic actuators vs. servohydraulic actuators?
Cost-effective
Eliminates messy oil
Requires less energy
Less noise which is ideal for office use
Smaller footprints
Low Maintenance
Good frequency range
You Can Pick Your Planar Biaxial Test Machine in 4 Easy Steps
First, select your frame(Step 1), then complete your system by selecting your controller software(Step 2) and accessories(Step 3). Choose from a wide range of controller software packages, grips, fixtures, chambers, video extensometers and more, are all designed to perform thousands of ASTM, ISO, EN, DIN and JEDEC industry standard test methods.
When you're ready to complete your system, contact us(Step 4), and an application expert will help you optimize your system to your test requirements and budget.
Start by Selecting a Series
Low force biaxial test applications are suited to the 574 series electrodynamic tester, which is used in mechanical, biomedical, and materials engineering research. You can use this all electric dynamic modular test machine for applications such as hard foam, glass fabrics, textiles, sheet metal fastening, silicone elastomer, orthotropic plates and biological samples such as fibrous tissues, arterial walls, back disc tissues, skin, and heart valves. They are ideal for testing the mechanical properties of directionally oriented microstructures.
High force biaxial tests are commonly served by our 174 and 974 series test machines. The 174 includes an electromechanical actuator that can produce loads up to 200 kN (45,000 lbf) and quasi-static speeds up to 2 Hz. The 974 servohydraulic systems are used for higher forces and tests speeds. Test sample types include sheet metal, metal plate, aluminum alloys, composite laminates, fibre reinforced polymer composites, plate girders, cell core sandwich materials and reinforced concrete.
Learn more about each type so you can make the right decision:
Max Force Capacity: 50 kN to 200 kN (11,250 lbf to 45,000 lbf)
Max Frequency: 2 Hz
The 174 series electromechanical planar biaxial test systems provide researchers with new abilities to characterize and evaluate quasi-static performance of high strength materials under planar biaxial loading conditions. You can perform both static and fatigue tests up to 2 Hz with the 174 series test system.
Max Force Capacity: 100 N to 30 kN (22 lbf to 6,750 lbf)
Max Frequency: 15 Hz
The 574 Series electrodynamic planar biaxial test systems provide researchers new abilities to characterize and evaluate quasi-static, dynamic and fatigue performance of low strength materials under planar biaxial loading conditions. With the 574 system, you can perform virtually any mechanical test used to characterize material properties.
Max Force Capacity: 50 kN to 2MN (11,250 lbf to 450 kip)
Max Frequency: 30 Hz
The 974 Series servohydraulic planar biaxial test system enables static, dynamic, and fatigue tests on high strength square, rectangular and cruciform test samples. 974 systems are used for metal and composite fatigue and fracture and configured for higher force capacities and test speed capabilities.