Versatile controls for any test machine
---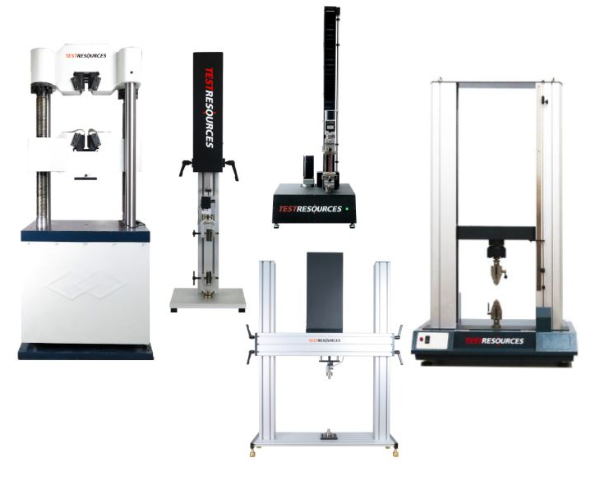 Newton is TestResources' powerful computer-based hardware, software, and control platform for electrostatic, electrodynamic and servohydraulic test systems.
☑ Buy what you need when you need it
☑ Add features and capabilities at any time
☑ From a single axis to multichannel fatigue
Universal, Fatigue & Multichannel
Specification-to-specification match up to every other brand
The Newton platform offers 3 software packages that were created to perform a variety of test applications. All packages are designed to be configured as entry-level or premium bundles, however, they can be customized to meet exact customer requirements.
Newton Universal automates electromechanical and electrohydraulic static test machines.


Constant rate control of position, load or strain
Single and dual segment tests
Cyclic testing to defined endpoints

Newton Fatigue provides measurement and control of electrodynamic, fatigue and servohydraulic test applications.


Constant amplitude control of load, position or strain
Powerful test profile builder
1 to 4 channels of input/output

Newton Multichannel controls up to four actuators synchronized to each other by phase or in a master-slave.


2 Channel
3 Channel
4 Channel
"We love our Newton controllers. We're using them on two new compression systems that we bought to replace some old Tinius Olsons. One thing that we like about the Newton controllers in particular is the new control software that has the two modes, one for the test engineer to set up the testing protocols, and one for the system user to simply run them. The software's simple drop-down menu of our pre-defined testing protocols allows them to choose between multiple tests at the same station making lab logistics much simpler for us. If I had the budget, I'd buy Newton controllers for the rest of my machines, too!"

-Christine Mulvey, Duke University
For New Test Machines & Upgrades
Compatible with any brand test machine | New or Used
Not only is Newton the best solution for all TestResources test machines but it is completely compatible with all other brands of test machines. You now have the power to upgrade existing test machines with the integration of a Newton controller and software package. You shouldn't have to replace your test system just because it's older and the technology is out-of-date. Newton gives you the option to simply upgrade your current electrostatic, electrodynamic or servohydraulic test machine with a new controller so that you can benefit from new technology and up-to-date innovations. It doesn't matter if you have a TestResources test machine or another brand, we can help.
Buy What You Need When You Need it
Newton grows with you!
Since Newton allows you to buy what you need when you need it, you have the flexibility to grow and add features at your own pace. Your controller and software can be easily enhanced at any time by downloading standard or customized features, capabilities and analysis.
Add New Features and Capabilities at Any Time
Pre-configured solutions meet customer specifications and budget for a wide range of test applications. Industry standard specific software modules, enhanced features and custom calculations are just a few of the options to choose from with Newton.
TestVideo Recording & Playback
TestCalc Real-time & Post Test
TestComply FDA Title 21 CFR compliance
Paper Tensile Test Module
ASTM Software Modules
ISO Software Modules
Stress/Strain Control Modules
Load Control Module

… And many more!

Choose from 190+ preconfigured solutions
How to Configure Your Newton
Configure Your Newton by Material or Sample

Adhesive Testing Software
Composites Testing Software
Cement Testing Software
Foam Testing Software

Metals Testing Software
Plastics Testing Software
Rubber Testing Software
And many more!
Configure Your Newton by Application

Axial Torsion Test Software
Bend Test Software
Compression Test Software
Fatigue Test Software

Impact Test Software
Planar Biaxial Test Software
Tensile Test Software
And many more!
Configure Your Newton by Standard

ASTM A370 Software
ASTM C773 Software
ASTM C947 Software
ASTM D3574 Software
ASTM D412 Software
ASTM D624 Software

ASTM D638 Software
ASTM D790 Software
ASTM F88 Software
ASTM E8 Software
ISO 13503-2 Software
And many more!
Contact us, we will help you configure your Newton.
Logical Workflow Design
Newton's logical workflow design makes running a test a breeze. Run a test in as little as 3 steps.