Get exactly what you need, quickly and economically!
---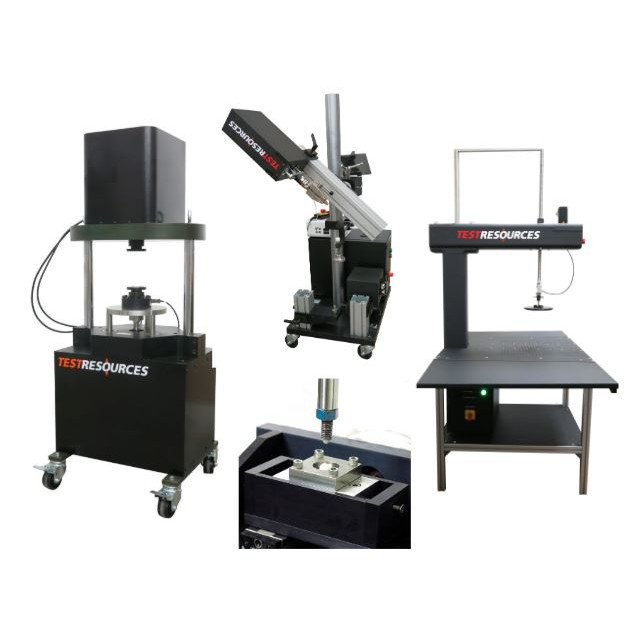 You shouldn't have to choose from cookie cutter test machines if your test is anything but ordinary. Thanks to our modular design you have the power and flexibility to design and build a machine that fits your unique application and budget. You no longer have to pay for things that you will never need or use because those features come 'standard' with the mass-produced machines. We have thousands of products and we are continuously adding new products based on our customer's needs.
Modified and Custom Testing Capabilities
Can't find a system that meets your needs? It happens. That's why we give you the flexibility to co-engineer your own system! Need a design tweak? With our large number of standard products and a massive number of modular sub-assemblies, we can tweak an existing design quickly and economically. If you need a blank sheet of paper, start from scratch design, we can do that too. We have machines that are completely modular for when you need a simple tweak and we design optimized test machines for specific applications when you need a little more customization. Get exactly what you need, quickly and economically.
Need Something Special?
Special size requirements
Special grips or fixtures
High/low force Static or Dynamic Load, Position and Strain control
Environmental Chambers
Multiaxial testing
The list is endless!
Expert Application Engineering
After thousands of applications in over 50 countries, we have seen a thing or two. Our application engineers have experience in all things testing and testing all things. When you work with us, you get experienced engineers to solve your testing and budgetary challenges. That's just what we do.
Okay, we are biased but really we have done some amazing things, and we can help you do the same!
Need Help
Talk to one of our Application Engineers to help you find the right solution for your test applicaiton
Contact Us Now
A Few Examples of Our Capabilities:
Airplane Landing Gear Test System
Technical Challenges

Wide range of sample sizes requires 3-12 ft test space
18-inch test stroke
Measure high forces at peak velocities
<13-week delivery requirement

Budgetary Challenge

A maintenance contractor of landing gear needs a low cost machine
Amazing Growing Test Machine
Technical Challenges

A special clamping system allowing columns to be collapsed and shortened for transport and installation through an elevator. And expand to become a machine tall enough to test long test samples.

Budgetary Challenge

The size requirements meant costly on-site installation.But thanks to some design work, we were able to build the machine outside of the room and saved the customer 2 full days of on-site installation costs.
2 for 1 Luer Tester
Technical Challenge

Needed to be able to operate both combined axial torsional tests on a horizontal machine and some tests on a vertical machine.

Budgetary Challenge

The customer was ready to buy two machines. We realized that with a few modifications we were able to combine two machines into one so the customer could perform both tests with fewer parts and a lower cost.
Rabbit Knee Tester
"I needed a method of measuring accurate data results for the angle and torque-free motion of a rabbit's knee. TestResources took the time to understand what I needed and came up with an effective and budget-friendly solution." Dr. Andrzej Fertala, Thomas Jefferson University
Technical Challenges

Needed precise measurements accurate enough to differentiate a healthy rabbit knee from an injured knee
Ability to analyze performance based on drug dosages and various periods of healing
Allow a complex knee joint to freely flow in a natural angle when bending

Budgetary Challenge

As a university research lab, obtaining funding can be a challenge
Foam Seat Cushion Tester
Technical Challenges

Large Test Space
Many Factors Affect test results
High hysteresis
Humidity
Fixture shape

Budgetary Challenge

Needed to find the lowest cost approach for 100% inspection
Mastication Simulation: Dental Implants
Technical Challenges

Mastication test that simulates the complex loads and biaxial motion of chewing requires special control mode switching in mid-test.
Stroke control to lift and place test platen before and after contact
Vertical load control
Horizontal sliding load control

Budgetary Challenge

As a university research lab, obtaining funding can be a challenge
Cadaver Test Machine

Technical Challenges

Needed to be versitile enough to be used in the operating room to test various body parts and joints.
Small footprint and it is easy to setup and run.
Both axial and torsional functionality
Able to maneuver around an operating table
Able to change the angle of the machine because of the variability between samples
Portable so users can bring it from one operating room to the next

Budgetary Challenge
Electric Car Component Tester
Technical Challenges

Volatile or explosive test specimens that could ignite, fragment, leak corrosive fluids, or explode during testing
Needed to be able to contain the sample in a chamber
Co-engineered the containment chamber
Needed 600 kN compression system

Budgetary Challenge

The budget was ridiculously tight
Nuclear Rod Tester
Technical Challenges

The machine needed to be able to fit inside a small glove box to protect the operators from radiation
The complete system couldn't be more than 2 feet tall
Needed to be able to test at elevated temperatures; 150°c (300°f)
It needed to be situated at an angle to open up the furnace doors
Top secret micro tensile samples of less than 1 inch

Budgetary Challenge

Budget wasn't really a problem as long as they could get what they needed. Other companies weren't able to provide an acceptable solution.
Couch Cushion Test Machine
Features

Foldable leaves to accommodate larger cushions
Portable - Can be wheeled from room to room
Controller software to test in accordance with ASTM D3574
Specifically designed articulating platen
Operates on standard 110 wall outlet, no special infrastructure required
Planar Biaxial Tester
This customer came to us to improve their internally built machine with something capable of higher forces and more control features. The goal was to quantify material properties of various textile and geotextile material to improve and define product capabilities.

The Solution

Vertically mounted 30 kN system
Independent and synchronized actuator movement for more flexibility
Expanded the amount of information available to the test engineer while testing fewer samples
Integrates additional sensors to monitor strain, environment variables, or vision measurement devices such as DIC
Requires fewer tests and shortened development time
Improved vertical design over their existing horizontal system saved lab space with reduced footprint
Designed to fit within existing door and hallways at the site to reduce overall startup costs
Provided improved test operator interface
Water Management Pipe Tester
A start up pipe manufacturing company within the oil and gas industry came to us for an affordable system that could accommodate a wide range of pipe sizes for developing water management systems.

Customer Requirements

Required a system that could handle high-density materials
Needed custom fixtures for a wide variety of pipe diameters
Testing in accordance to ASTM D2290
Concrete Anchor Bolt Test Machine
Customer collaboration on design helped improve workflow in their lab. We brought their vision to life and helped them to maximize ROI. Our technical and design expertise gave this customer a competitive advantage. The machine delivered higher throughput and was lower cost than other companies were able to provide.

The Solution

Able to perform multiple tests with one machine including, fatigue, tensile and seismic shear
Testing all anchors from small to large - Capable of up to 50,000 lbs
Accommodates different sizes of cement slabs and allows for multiple anchors to be tested per setup
Unique design allows for effortless movement of a 4ft by 4ft slab
System tests multiple combinations of load and cycling durations
Single Carbon Fiber Tester
A research lab came to us for a solution to test single carbon fibers.

The Solution

Testing 10-20 micron diameter single carbon fibers
Needed a low force load cell for precise data required for single fiber test samples
Gripping such a small sample was a challenge but we provided a solution that made it simple
Portable light-weight system able to move from one lab to the other which is ideal for a research lab

Other test machine manufacturers were charging 2x more.
5 Gallon Pail Crush Test System
One of the largest pail manufacturers in the industry came to us for a test system that would be versatile enough to test various styles and combinations of caps and pails.

The Solution

Crush pails up to 6,000 lbs
Determine the capping force and failure force of a single pail
Compression platen for testing the seal on the pail lid
Determine failure force of stacked pails for storage and shipping information
Large dual column design for testing stacked pails
Accommodates various styles, sizes and combinations of caps and pails

Our trial testing results and low prices made us the best choice. Due to the success of the 1st system, they are putting a system in each of their manufacturing locations.
Test Machine Controls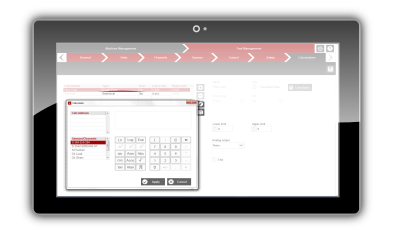 Newton is TestResources' powerful computer-based hardware, software, and control platform. Newton is the latest technology on the market that gives you the ability to purchase only the capabilities and features you currently need while allowing you to easily and affordably expand the system's capabilities to meet all future needs. Your controller and software can be easily enhanced at any time by adding standard or customized features. That's the beauty of Newton!
Buy only what you need, when you need it
Completely customizable
Electromechanical, electrodynamic and servohydraulic test systems
Upgrade your existing test machine, no matter what brand it is
Add new features & capabilities at any time - Choose from 190+ features
Start with a preconfigured package that has been optomized for common applications or build your own package feature by feature.
TestVideo Recording & Playback
TestCalc Real-time & Post Test
ASTM A370 Software Module
ASTM D412 Software Module
ASTM D638 Software Module
ASTM D790 Software Module
ASTM E8 Software Module
ASTM F88 Software Module
… And many more!
Need a custom calculation or a custom application developed? Need a second control channel added to your package? Just ask! We can completely customize your package and features to meet any test requirements both now and down the road.
Contact us to configure your software
Custom Accessories
Choose from thousands of accessories or we will design one with you to meet your specific application. From silk thread to air plane landing gear, we have the accessories you need to perform your test effectively.
Contact us to design your accessories
---
Solving technical challenges and saving test engineers money since 1998.
TestResources is a trusted partner to engineers worldwide who seek our technical expertise to accurately design test systems. Work with us and you will have access to experienced application engineers who partner with you to design high performance solutions. If you need a test machine but have a limited budget or require specialized functionality, we have a solution for you!