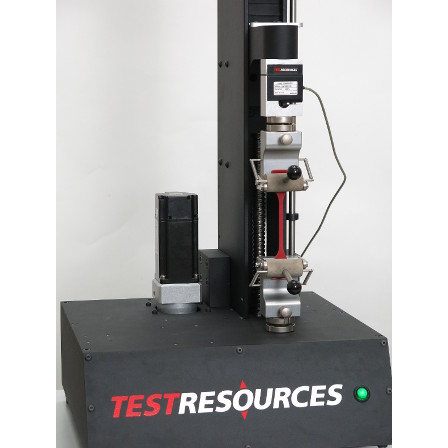 Choose from 10 different frames with 100's of configurations
---
Tensile test machines, also known as tensile testers, are universal testing machines specially configured to evaluate the tensile strength of specimens. Our tensile testers will measure characteristics such as ultimate tensile strength, yield strength, elongation, and modulus. Each tensile test machine is configured to your testing needs by our application engineers with the correct controller, grips, and accessories.
Choose from 10 different frames and two different technologies with 100's of configurations which allows you to optimize your testing capabilities and pick exactly what you need.
That means you get the exact system that matches the specifications you need and fits within your budget. More choices mean fewer compromises.
| Series | Type | Force Range | Relative Price |
| --- | --- | --- | --- |
| 100 Series | Electromechanical | up to 9 kN (2,000 lbf) | $ |
| 200 Series | Electromechanical | up to 5 kN (1,125 lbf) | $$ |
| 300 Series | Electromechanical | up to 300 kN (112 kip) | $$$ |
| 600 Series | Electrohydraulic | up to 2 MN (450 kip) | $$$ |
Electromechanical test machines are the best solution for tensile testing solutions ranging from low force up to 300 kN (112 kip). Electrohydraulic test machine configurations are best for high load capacities ranging from 300 kN (112 kip) to 2000 kN (450 kip).
Due to our modular machine design of our universal test machines, it can be also configured to serve a broad range of mechanical test applications such as compression, peel, friction, and shear testing by substituting the accessories or test setups including fixtures, strain sensors needed for each test.
Ready to configure your tensile test machine?

Contact us by completing the form to help you select the right machine.
Ready to configure your tensile test machine?
Contact us to help you select the right machine.
Contact Us Now!
4 Easy Steps to Select Your Tensile Tester
Step 1 - Select your frame
Step 2 - Select your accessories
Step 3 - Select your controller software
Step 4 - Contact us
When you're ready to complete your system, contact us, and an application expert will help you optimize your system to your test requirements and budget.
Start by Selecting a Series
Your first step to choosing the correct tension tester is to determine your specimen geometry, size and strength characteristics. Armed with this information our applications engineers can identify the test machine capacity and tensile grips needed to pull your sample apart. The next step is to decide the test data you want which will help confirm the best controller and test software for your test.
Learn more about each series so you can make the right decision:
Type: Electromechanical
Force: 9 kN (2,000 lbf)
100 Series Electromechanical Tensile Test Machines are modular tabletop systems ideal for tensile tests requiring load capacities up to 9 kN (2,000 lbf). This affordable series includes five lightweight load frames and four actuators that deliver different force/speed capacities. We offer several choices of price/performance controllers and test software, and a selection of load cells from the full scale actuator rating down to sub-gram load levels. The 100 Series is our most flexible series, making them a popular choice.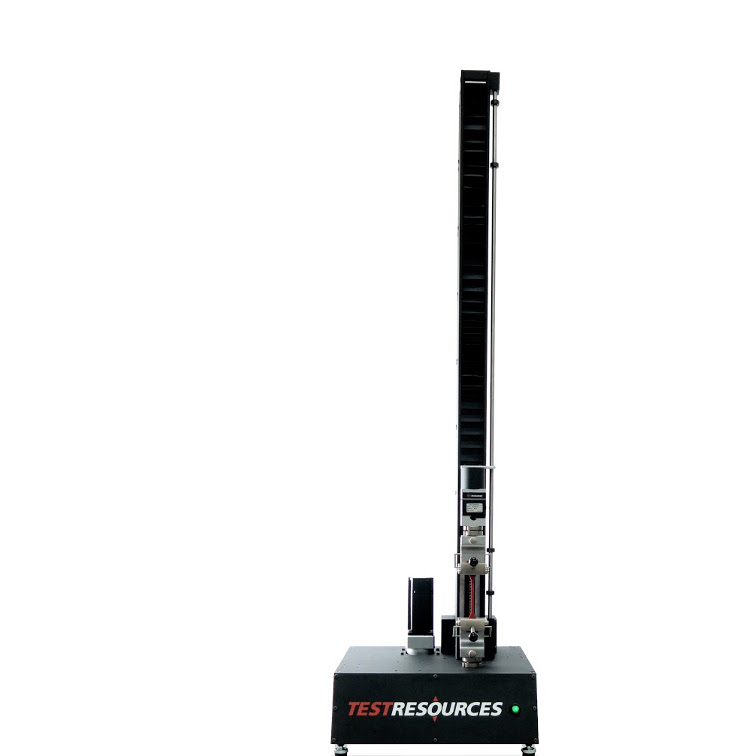 Type: Electromechanical
Force: 5 kN (1,125 lbf)
200 Series Single Column Tensile Test Machines are capable of performing both compression and tensile testing applications and feature higher travel and faster speed than the 100 Series. They are available with force capacities up to 5 kN (1,125 lbf) and speeds up to 2,500 mm/min (100 ipm). 200 Series load frames are compact and lightweight and apply to situations where lab table space is limited.
Type: Electromechanical
Force: 300 kN (112 kip)
As our most popular test machines, the 300 Series Electromechanical Tensile Test Machines are the best choice for performing static compression applications at forces between 1 kN and 300 kN (225 lbf and 112 kip). These dual column testers are available in both tabletop and floor standing models which can perform a variety of other tests including Tensile, Bend, Bond, Flexural, Fracture, Peel, Shear, Tear, Stress Relaxation, and Short-term Creep tests.
Type: Hydraulic
Force: 2 MN (450 kip)
600 Series High Force Hydraulic Tensile Test Machines are the best choice for performing static tension applications when high force capacity is needed, such as testing metals and metal products. 600 Series test machines feature capacities between 300 kN and 2 MN (67,500 lbf and 450 kip). 600 Series test machines also perform compressive, bend, fracture, and shear tests. The standard model features large diameter columns and rugged components for superior frame stiffness and durability.
Tensile Test Grips & Fixtures
Choose from 100's of options!
Wedge grips - mechanical, pneumatic and hydraulic options
Vice grips - mechanical, pneumatic and hydraulic options
Wire and cable capstan grips - mechanical, pneumatic and hydraulic options
Threaded and buttonhead metal sample holders
Webbing, strapping, and sheet grips
Tensile Test Machine Controls & Software
The test machine includes a closed loop servo controller that includes user selectable control modes such as constant velocity or rate of grip separation (crosshead displacement), constant load rate (lbf per minute), or constant strain rate. The vast majority of standardized tensile tests are run in constant extension rate mode. Test packages include single or dual ramp test methods. In some applications, where service load tests are needed, an additional TestCreator module makes it possible to automate the test involving a sequence of up to 255 independent steps. TestCreator makes it possible to create more complex waveforms, and like virtually all of our software modules, can be added to your system if that application occurs.
Real-Time and Post Test Data Analysis Calculator | TestCalc
Software add-on
The TestCalc software module expands the standard list of calculations and is an option for all Newton software packages. It is simple to add and can be done at any time. It is the 'go to' solution for calculations that are beyond our standard package.
Digital Micrometer | TestGage
Software add-on
TestGage is used with a digital micrometer or caliper to measure sample thickness (depth) and width. After the user makes measurements, data is transferred to the control software.
Video Recording and Playback Software Module | TestVideo
Software add-on
High resolution video capture of the test. Playback is time synchronized with load data. The TestVideo software module, combined with a digital camera, can capture a visual record of your mechanical tests. The video images are synchronized with the load data adding valuable visual information to the test results. Note that TestVideo does not provide strain data. If you need strain data, check out out TestVE module.
Tensile Force & Strain Measurement Sensors
Each test machine includes, at a minimum, a force channel assigned to a load cell, and the load cell is calibrated to industry standards such as ASTM E4 or ISO 7500-1. Additionally a single, or the three mentioned, strain measurement sensors are assigned signal conditioning channels. This data is gathered with sample dimensions to calculate stress-strain curves.
A traditional strain gage based clip on extensometer set for a limited or small range so that accurate modulus measurements can be made. This solution applies the ASTM D695 tests on rigid plastics.
Video Extensometer | TestVE
TestVE is a non contacting extensometer based on Digital Image Correlation (DIC) technology. One device to serve multiple test applications. Eliminates need for multiple clip on extensometers. Used for precision measurement of the movement of two reference marks on the test sample. Ideal for quasi static tensile, compression, and bend tests.
Tensile Test Environmental Accessories
Thermal Chambers - G2700 Family - high and low temperatures
Tensile Test Sample Preperation Aids
When creating specimens from stock material (such as rubber, plastics, leather, or foam), you need the ability to extract the same geometry time and time again. Ensure consistent results with sample preparation aids.
Ready to Configure Your Tensile Test System?
The number of options may feel overwhelming but we can quickly help you optimize a complete system that meets your needs.