Evaluate static tensile strength characteristics of materials, products, & components
---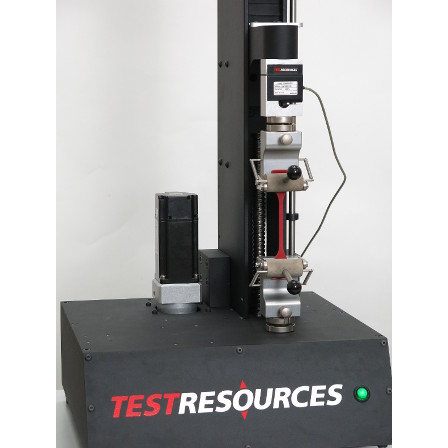 Tensile test is one of the most fundamental mechanical tests that can be performed on a material, product or component. A test sample is loaded in tension when it experiences opposing forces acting upon opposite faces both located on the same axis that attempt to pull the specimen apart. These tests are simple to setup and complete and reveal many characteristics of the material that is tested. Tensile tests are considered to be essentially the opposite of a compression test.
Why Perform a Tensile Test?
Tensile testing is the most common test for obtaining the mechanical characteristics of isotropic materials. Tensile tests, along with compression tests and flexural bend tests, produce fundamental information to characterize materials properties. Materials testing properties help select materials for engineering applications and are included in material specifications to ensure quality. They are used to compare different and new materials or processes.
Need a test machine to perform a tensile test?
See our wide range of tensile test machines
Ultimate Tensile Strength Measurements
A material's tensile strength is probably the first and foremost concern amongst designers, materials suppliers. Ultimate tensile strength (UTS) is the maximum stress that a material can withstand while being stretched or pulled before breaking. The force is measured with the test machine's load cell and converted to stress by the test machine's controller software. UTS is calculated by dividing the peak tension force the test sample withstands by its cross sectional area. Tensile testing is a common materials test in which the test sample is subjected to a controlled tension load until it breaks. The tensile strength may differ from the specimen's strength at break, depending on whether the material is brittle, ductile, or both. In the case of brittle materials the ultimate tensile strength is close to the yield point, whereas in ductile materials the ultimate tensile strength is typically higher.
Properties that are directly measured via a tensile strength test include ultimate tensile strength, breaking strength, maximum elongation and reduction in area. The ultimate tensile strength is found by performing a tensile test and recording the engineering stress. The highest point of the stress-displacement curve is the ultimate tensile strength and has units of stress.
Test equipment is simpler when it only needs to test for ultimate tensile strength.
Hooke's Law
In the majority of cases, the initial test portion displays a linear relationship between the applied force and specimen elongation. In this region, the slope of the line obeys "Hooke's Law" where the ratio of stress to strain is a constant. The slope of the line is called Modulus of Elasticity or Young's Modulus.
Tensile Modulus & Yield Strength
In tensile testing applications, Young's Modulus is commonly referred to as Tensile Modulus. Modulus is a measure of the elastic stiffness of the test sample that applies only to the linear portion of the curve. If the tensile load is removed from the sample, then it will return to the same position that it had before the load was applied. As the load increases and the curve becomes nonlinear then Hooke's Law no longer applies and permanent or plastic deformation occurs. Once the sample takes a permanent stretch, it reaches the yield strength of the material, also known as proof strength. Commonly this set of tensile test data, or test results would include elastic limit, tensile strength, yield point, yield strength, elongation, and Young's Modulus.
The same test equipment used for ultimate tensile strength can be expanded to measure modulus and yield strength by adding a strain sensor (e.g. extensometer) with appropriate software.
Tensile Test Applications
A tensile test is used to check the quality of different materials based on their properties such as ductility, hardness, yield strength, and tensile strength. When selecting materials for a final product or prototype, you need to know if they will stand up to real-world use. Every material has a breaking point, so knowing how strong your materials are can alert you if you are using something that won't hold up well under stress. When choosing fabrics, metal alloys, paper pulp and other raw materials, a tensile test can help you select the strongest available options.
Different types of materials and products require different types of fixtures. Round steel rebar samples require different fixturing than a geotextile sample would.
Here are just a few examples of fixtures for different tensile applications:
Steel Rebar Tensile Testing
Rigid Plastic Tensile Testing
Fiber Rope Tensile Testing
Geotextile Tensile Testing
Learn more about tensile grips and fixtures →
Popular Testing Applications
Metals
ASTM A48 tensile test for castings covers gray iron castings intended for general ...
ISO 2740 is applicable to all sintered metals and alloys, excluding hardmetals. IS...
Need Tensile Testing Equipment?
Get the Best Value Tensile Testing Equipment