Evaluate static compressive strength characteristics of materials, products, & components
---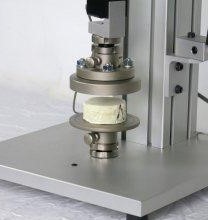 A compression test is a mechanical test in which a material or product responds to forces that push, compress, squash, crush and flatten the test specimen. Compression testing is a fundamental mechanical test, similar in nature to tensile and bend tests. Compression tests characterize material and product strength and stiffness under applied crushing loads. These tests are typically conducted by applying compressive pressure to a test specimen using platens or specialized fixtures with a testing machine that produces compressive loads.
Compression Test
During a compression test, properties of the material including sample stress and strain are measured and various calculations made. Data is plotted as a stress-strain diagram. Data is used to determine qualities such as compressive strength, elastic limit, proportional limit, yield point, yield strength, and modulus of elasticity.
Many samples are placed between two plates or platens that distribute the applied load across the entire surface area of two opposite faces of the test sample. The plates are compressed together by a compression-capable test machine, causing the sample to flatten. The sample's deflection or strain is measured by the machine or by a deflectomer or extensometer.
Need a test machine to perform a compression test?
See our wide range of compression test machines
What Is the Purpose of a Compression Test?
The goal of compression testing is to determine the behavior or response of a material while it experiences a compressive load by measuring fundamental variables, such as, strain, stress, and deformation. By testing a material in compression the compressive strength, yield strength, ultimate strength, elastic limit, and the elastic modulus among other parameters may all be determined. With the understanding of these different parameters and the values associated with a specific material it may be determined whether or not the material is suited for specific applications or if it will fail under the specified stresses.
Ultimate Compressive Strength Measurements
A compressive strength test measures the compressive load or stress that a material can resist before fracturing. The test sample form is usually a cube, prism or cylinder that is compressed between compression plates or platen. The force is measured by the load cell and data gathered by the test controller. In these applications, machine platen to platen displacement is measured using the crosshead motion position encoder. Some materials fracture at their compressive strength limit; others deform irreversibly, so a deformation limit may be considered as the limit for compressive load. Compressive strength measurements are affected by the specific test method and conditions of measurement.
Characterizing Compressive Stress Strain Properties
In addition to strength, many applications involve the characterization of the uniaxial stress strain properties including compressive modulus of elasticity, yield and elastic limit, proportional limit, yield point, and yield strength. Multiple test applications measure hardness or stiffness under compression loading.
The accuracy of strain measurements depends upon the precision of deflection, displacement or strain sensors that measure sample deformation. By mounting the sensor on the test sample, or measuring platen to platen displacement directly, test machine compliance is eliminated. Compression tests generally require sensors with short travel precision that are in direct contact with the test sample, rather than relying on test machine, or crosshead movement encoder readings. For many applications, platen to platen measurements require three equally spaced displacement sensors, averaged together, to measure axial deflection accurately.
Compression Test Applications
A compression test is used to check the quality of different materials based on their properties such as compressive strength, modulus of elasticity, yield strength, etc. When selecting materials for a final product or prototype, you need to know if they will stand up to real-world use. Every material has a breaking point, so knowing how strong your materials are can alert you if you are using something that won't hold up well under stress. When choosing composites, metals, rubber and other raw materials, a compresion test can help you select the strongest available option for the job.
Different types of materials and products require different types of fixtures. Thin film samples require different fixturing than a rubber gasket sample would.
Popular Testing Applications
Learn more about compression grips and fixtures →
Need Compression Test Equipment?
The number of options may feel overwhelming but we can quickly help you optimize a complete system that meets your needs.
Get the Best Value Compression Testing Equipment