Plastic pipe and pipe welds are often tested with tensile, bend and compression tests to determine the strength of the material and weld points. A common test we see is the PE100 electrofusion welding quality in gas pipeline. For this kind of test, it is typical to test with the following ASTM standards:
Tensile testing per ASTM D638
Flexural bend testing per ASTM D790
Compression testing per ASTM D695 or ASTM D2412
TestResources makes versatile universal testing machines which can be configured with a variety of specimen fixtures to accomplish all of the above tests on one machine. These systems perform compression, tensile, ring stiffness, ring flexibility, and other mechanical force tests with common test methods such as ASTM D2412, ASTM D638, ASTM D695, ASTM D790, and many more.
For compression testing, a compression platen assembly with two load cells offers unparalleled stiffness and rigidity for testing plastic pipe. Accompanied by a wide column spacing to accommodate a range of plastic pipe diameters will guarantee you accurate test data.
Applicable Testing Standards
Recommended Test Machine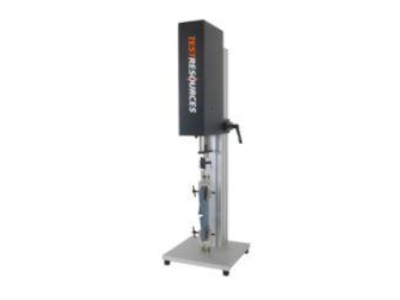 100 Series Universal Test Machines
Forces up to 10 kN (2,250 lbf)
Low force tabletop systems
Modular series of five frame options with adjustable test space
Affordable testing option for tension, compression, bend, peel and much more
300 Series Electromechanical Universal Test Machines
Force range of 5 kN to 600 kN (1,125 lbf to 135,000 lbf)
Adjustable test space
The most popular choice for static tension and compression tests
These dual column testers are available in both tabletop and floor standing models
Recommended Testing Accessories