600-series.jpg
ISO 6892-1 & 2 Tensile tests provide information on the strength and ductility of materials under uniaxial tensile stresses. From fragile wires to structural steel, from lead and copper to aluminum, steel and titanium alloys, metal alloy manufacturers face the challenge of testing their products and materials to meet advertised quality specifications and comply with required industry standards. We solve those challenges for you with a wide variety of uniaxial tensile testing solutions at the most cost effective prices in the industry.
ISO 6892-1 Metal Tensile Testing
ISO 6892-1 specifies the method for tensile testing of metallic materials and defines the mechanical properties which can be determined at room temperature.
ISO 6892-2 Tensile Testing of Metals at Elevated Temperature
ISO 6892-2 specifies a method of tensile testing of metallic materials at temperatures higher than room temperature.
We have extensive knowledge of tensile testing metals in accordance with ISO 6892-1 & 2:
We understand the challenges you face.

We will save you time and money.

We have the products you need. Guaranteed!
Metal manufacturing requires the confidence that your incoming raw materials and your outgoing product have the proper strength and ductility needed to manufacture products that meet your advertised competitive specifications. You need accurate, repeatable data you can rely on for Ultimate Tensile Strength (UTS), Percent Elongation, Offset Yield Strength and Modulus of Elasticity (Young's Modulus). A robust, reliable, low maintenance test system that consistently delivers the stress-strain tensile properties you need will go a long way in providing comfort and efficiency in your manufacturing processes. Your business counts on cost-effective solutions to simplify and standardized results. TestResources delivers affordable systems, software, control electronics, grips and fixtures.
TestResources is your long-term partner to provide complete solutions for your testing needs. We are not just another machine supplier. Our application engineers make every effort to learn the details of your particular testing needs so they can propose the most budget-friendly solution. We strive to deliver a completely integrated system that meets ALL of your immediate and long-term technical and budgetary requirements.
We are committed to our customers immediate and long-term testing success. Our application engineers have extensive testing knowledge that you can rely on as you decide what system is right for your needs. By working with our application engineers, you can be confident that TestResources will solve your technical challenges and save you money.
How do we save you money? We do business differently. While the others are set up to mass-produce cookie cutter test machines on a 'one-size-fits-all' basis our business is set up to provide custom solutions that are made to order. Our business model utilizes a modular design, that we like to call 'Smart Design,' which enables us to inexpensively build a machine to your exact specification. Because of our Smart Design capability, we can offer you a very affordable system for your immediate needs and budget, while giving you an easy and cost-effective path to upgrade the capabilities of your machine and software in the future as new test requirements are identified.
Common Industries
Common Material Types
Common Samples

Contract Testing Services
Department of Transportation
Government/Defense
Manufacturing
Medical
And more!

Titanium
Titanium Alloy
Metallic Foil
Nickel
Nickel Alloys
Steel
Alloy Steels
Aluminum
Stainless Steel
And more!

Rectangular
Tubing
Round
Sheet
Plate
Castings
Pipe
Wire
Rod
Bar
Extrusions
And more!
Equipment Required
For ISO 6892-1 & 2, use a universal test machine in accordance with ISO 7500-1 and capable of maintaining a stress rate of at least 60 N/((mm*mm)*s). By means of our testing expertise and modular product design, we will help find the solution that is right for you. Give our test engineers a call today for help configuring the best test machine and accessories according to your standard.
Related Standards
ASTM A27 Steel Castings, Carbon, for General Application
ASTM A29 Steel Bars, Carbon and Alloy, Hot-Wrought
ASTM A48 Steel Castings, Welding, Qualifications of Procedures and Personnel
ASTM A53 Pipe, Steel, Black and Hot-Dipped, Zinc-Coated, Welded and Seamless
ASTM A109 Steel, Strip, Carbon (0.25 Maximum Percent), Cold-Rolled
ASTM A269 Seamless and Welded Austenitic Stainless Steel Tubing for General Service
ASTM A370 Mechanical Testing of Steel Products
ASTM A488 Steel Castings, Welding, Qualifications of Procedures and Personnel
ASMT A641 Zinc–Coated (Galvanized) Carbon Steel Wire
ASTM A653 Standard Specification for Steel Sheet, Zinc-Coated (Galvanized) or Zinc-Iron Alloy-Coated (Galvannealed) by the Hot-Dip Process
ASTM A1008 Steel, Sheet, Cold-Rolled, Carbon, Structural, High-Strength Low-Alloy, High-Strength Low-Alloy with Improved Formability, Solution Hardened, and Bake Hardenable
ASTM A1018 Steel, Sheet and Strip, Heavy-Thickness Coils, Hot-Rolled, Carbon, Commercial, Drawing, Structural, High-Strength Low-Alloy, High-Strength Low-Alloy with Improved Formability, and Ultra-High Strength
ASTM A1064 Carbon-Steel Wire and Welded Wire Reinforcement, Plain and Deformed, for Concrete
ASTM B3 Soft or Annealed Copper Wire
ASTM B36 Brass Plate, Sheet, Strip, And Rolled Bar
ASTM B96 Copper-Silicon Alloy Plate, Sheet, Strip, and Rolled Bar for General Purposes and Pressure Vessels
ASTM B103 Phosphor Bronze Plate, Sheet, Strip, and Rolled Bar
ASTM B108 Aluminum-Alloy Permanent Mold Castings
ASTM B122 Copper-Nickel-Tin Alloy, Copper-Nickel-Zinc Alloy (Nickel Silver), and Copper-Nickel Alloy Plate, Sheet, Strip, and Rolled Bar
ASTM B152 Copper Sheet, Strip, Plate, and Rolled Bar
ASTM B209 Aluminum and Aluminum-Alloy Sheet and Plate
ASTM B210 Aluminum and Aluminum-Alloy Drawn Seamless Tubes
ASTM B211 Aluminum and Aluminum-Alloy Rolled or Cold Finished Bar, Rod, and Wire
ASTM B221 Aluminum and Aluminum-Alloy Extruded Bars, Rods, Wire, Profiles, and Tubes
ASTM B241 Aluminum and Aluminum-Alloy Seamless Pipe and Seamless Extruded Tube
ASTM B247 Aluminum and Aluminum-Alloy Die Forgings, Hand Forgings, and Rolled Ring Forgings
ASTM B265 Titanium and Titanium Alloy Strip, Sheet, and Plate
ASTM B308 Aluminum-Alloy 6061-T6 Standard Structural Profiles
ASTM B348 Titanium and Titanium Alloy Bars and Billets
ASTM B367 Titanium and Titanium Alloy Castings
ASTM B557 Tension Testing Cast Aluminum Magnesium Test Equipment
ASTM B591 Copper-Zinc-Tin and Copper-Zinc-Tin-Iron-Nickel Alloys Plate, Sheet, Strip, and Rolled Bar
ASTM B861 Titanium and Titanium Alloy Seamless Pipe
ASTM B862 Titanium and Titanium Alloy Welded Pipe
ASTM B863 Titanium and Titanium Alloy Wire
ASTM D1002 Apparent Shear Strength of Single-Lap-Joint Adhesively Bonded Metal Specimens by Tension Loading (Metal-to-Metal)
ASTM D3528 Strength Properties of Double Lap Shear Adhesive Joints by Tension Loading
ASTM D5656 Thick-Adherend Metal Lap-Shear Joints for Determination of the Stress-Strain Behavior of Adhesives in Shear by Tension Loading
ASTM E8 Tension Testing of Metallic Materials
ASTM E345 Tension Testing of Metallic Foil
ASTM F2516 Tension Testing of Nickel-Titanium Superelastic Materials
Recommended Test Machines
300 Series Electromechanical Universal Test Machines
Force range of 5 kN to 600 kN (1,125 lbf to 135,000 lbf)
Adjustable test space
The most popular choice for static tension and compression tests
These dual column testers are available in both tabletop and floor standing models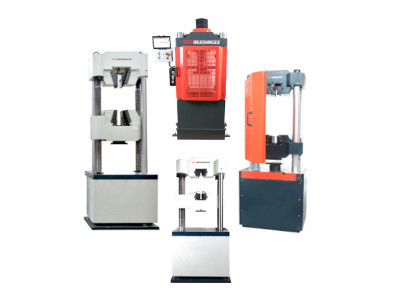 600 Series Universal Test Machines
Force range of 300 kN to 2,000 kN (67,500 lbf to 450,000 lbf)
The best choice for performing static tension and/or compression applications when force capacities of 300 kN (67,000 lbf) or more are needed
Includes its own grips
Recommended Accessories