ISO 1421 is a standard test method used to test the tensile strength and elongation on a range of fabrics, including woven fabrics, coated fabrics, rubber-coated fabrics, and plastic-coated fabrics.
If you plan on conducting ISO 1421 we recommend acquiring the test standard from ISO. There are many important details regarding this test method that are provided which are key to achieving successful results. Every standard provides important environmental conditions, test sample preparation and conditioning requirements, sample dimensions and test reporting expectations. It's critical that you fully understand the standard so that you can set up the test, run the procedure, and report the results requirements.
Why Perform Tear Tests on Coated Fabrics?
Tests are needed to ensure the quality of rubber-coated fabrics including tarpaulins, rainwear, outdoor clothing, and similar products.
What Other Standards Apply to Testing Coated Fabrics?
What Is ISO 1421?
ISO 1421 standard test method describes two tests that measure strength properties of rubber and plastic coated fabrics. Strip Test (Method 1) determines tensile strength and elongation at break; where the full width of the test piece is gripped in the jaws. Grab Test (Method 2) determines only tensile strength; where only the central part of the test piece is gripped in the jaws.
How to Perform ISO 1421
Each test sample is pulled at a constant rate of extension until it breaks. In the strip test, the maximum force and elongation at maximum force and force at break and elongation at break are determined. In the grab test, only the maximum force is measured.
Test Machines for Coated Fabrics
Our universal test machines serve multiple plastic testing applications and are capable of performing all quasi static tension/compression tests, such as tensile, peel, adhesion, and flexural testing. Machine selection is best based on the number and type of tests anticipated in the future. The vast majority of fabric tests can be performed at loads below 5 kN (1125 lbs). Virtually all fabric tests require a uniform constant rate of extension (CRE), or constant velocity control mode with the vast majority occurring between 1 to 500 mm/min (0.04 to 20 in/min). Measurement of force complies with ISO 7500-1.
ISO 1421 test speed is 100 mm/min (4 in/min).
What Test Fixtures Are Recommended for ISO 1421?
Pneumatic Vise Grips offer ease of sample loading, consistent clamping force, self alignment, and interchangeable jaws with smooth, serrated, and corrugated (wave) surfaces. Our G240G, G83 and G108 models are ideal for ISO 1421 strip and grab tests.
Self Tightening Spring Action Grips are a simple and cost effective gripping solution that are the ideal for testing highly flexible plastics and elastomeric materials. Our G7 is recommended for coated plastic fabric materials. This grip helps avoid jaw breaks and sample slippage. This grip is ideal for the strip test.
ISO 1421 Specimens
Strip samples are cut longitudinally and in the transverse direction. Each sample is 50 mm wide with a distance of 200 mm separation between the test grips mounted in the test machine. Grab test samples are 100 mm wide with a length not less than 150 mm.
Articles Related to ISO 1421 Testing
ISO 1421 Test Machines
Most Economical
The 100 family is the most economical solution but it offers less functionality and flexibility then other systems. The load frame is compact and lightweight which is great if lab table space is limited. Complete system includes controller software, load frame, actuator and grips specifically configured for your biomedical test.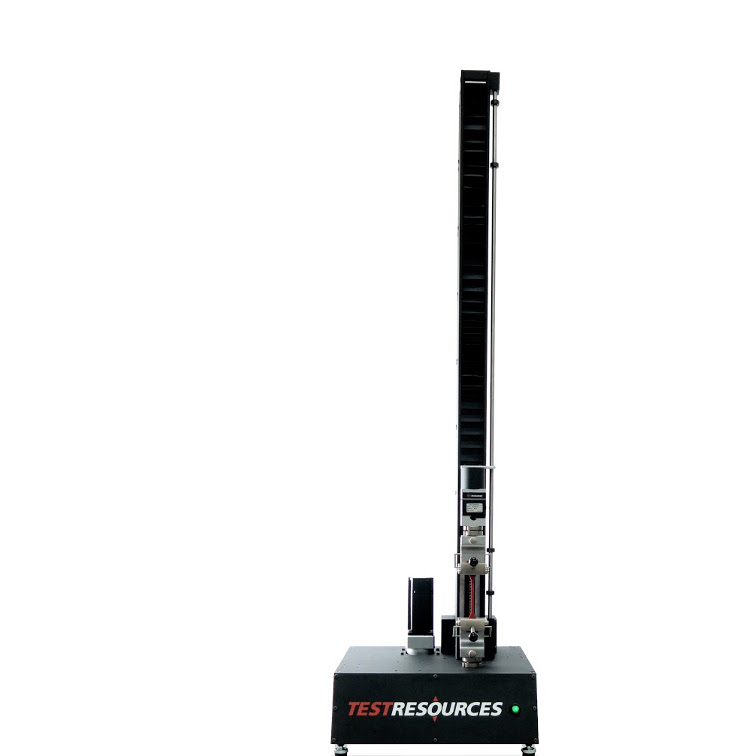 Best Performance
The 240 family is the ideal solution for a wide range of tests and features higher travel and faster speeds compared to traditional universal test machines. The load frame is compact and lightweight which is great if space is limited. Complete system includes controller software, load frame and grips specifically configured for your test requirements.
ISO 1421 Grips
ISO 1421 Test Machine Software
ISO 1421 Test Machine Controller Software | NISO1421
Application specific module features preset settings, test calculations, and graphical test report contents.
Video Recording and Playback Software Module | TestVideo
High resolution video capture of the test. Playback is time synchronized with load data.
Video Extensometer | TestVE
For precise non contacting strain measurement per ASTM E83 Class B1 (ISO 9513 Class 0.5). For instance, a gage length of 50 mm (1.9 in) with a 50% elongation can be reported with 1 micron resolution.
Note: This is not a complete summary of the standard. Anyone planning to conduct this test should read the full standard.