ASTM F1717 covers the materials and methods for the static and fatigue testing of spinal implant assemblies in a vertebrectomy model. The test materials for most combinations of spinal implant components can be specific depending on the intended spinal location and intended method of application to the spine. ASTM F1717 tests include static compression bending, tension bending, and torsion tests.
Additionally fatigue tests are employed to quantify the static and dynamic mechanical characteristics of different designs of spinal implant assemblies. The mechanical tests are conducted in vitro using simplified load schemes. Static compression bending tests start by selecting UHMWPE blocks for the spinal implant assembly. Install the anchors according to the manufacturer.
By means of our orthopaedic testing expertise and modular product design, we will help find the testing solution that is right for you. Give one of our application engineers a call today for help with creating the best budget and testing plan according to ASTM F1717.
Recommended Test Machine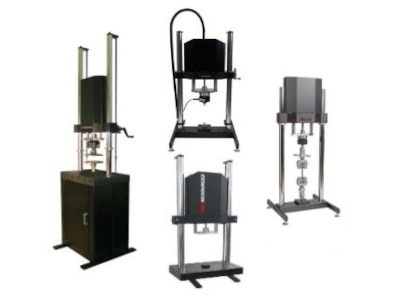 800 Series Fatigue Test Machines
Static and fatigue forces up to 50 kN (11250 lbf)
Frequency ratings up to 15 Hz
Oil-free, all-electric actuator for clean test conditions
Lower purchase, operating, and maintenance costs than hydraulic equivalents
Recommended Testing Accessories