ASTM E8 Tension Testing of Metallic Materials
ASTM E8 Tension Testing of Metallic Materials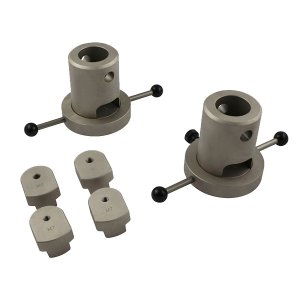 ASTM E8 Tensile tests provide information on the strength and ductility of materials under uniaxial tensile stresses. From fragile wires to structural steel, from lead and copper to aluminum, steel and titanium alloys, metal alloy manufacturers face the challenge of testing their products and materials to meet advertised quality specifications and comply with required industry standards. We solve those challenges for you with a wide variety of uniaxial tensile testing solutions at the most cost-effective prices in the industry.
Metal manufacturing requires the confidence that your incoming raw materials and your outgoing product have the proper strength and ductility needed to manufacture products that meet your advertised competitive specifications. You need accurate, repeatable data you can rely on for Ultimate Tensile Strength (UTS), Percent Elongation, Offset Yield Strength and Modulus of Elasticity (Young's Modulus). A robust, reliable, low maintenance test system that consistently delivers the stress-strain tensile properties you need will go a long way in providing comfort and efficiency in your manufacturing processes. Your business counts on cost-effective solutions to simplify and standardized results. TestResources delivers affordable systems, software, control electronics, grips and fixtures.
TestResources is your long-term partner to provide complete solutions for your testing needs. We are not just another machine supplier. Our application engineers make every effort to learn the details of your particular testing needs so they can propose the most budget-friendly solution. We strive to deliver a completely integrated system that meets ALL of your immediate and long-term technical and budgetary requirements.
We are committed to our customers immediate and long-term testing success. Our application engineers have extensive testing knowledge that you can rely on as you decide what system is right for your needs. By working with our application engineers, you can be confident that TestResources will solve your technical challenges and save you money.
How do we save you money? We do business differently. While the others are set up to mass-produce cookie cutter test machines on a 'one-size-fits-all' basis our business is set up to provide custom solutions that are made to order. Our business model utilizes a modular design, that we like to call 'Smart Design,' which enables us to inexpensively build a machine to your exact specification. Because of our Smart Design capability, we can offer you a very affordable system for your immediate needs and budget, while giving you an easy and cost-effective path to upgrade the capabilities of your machine and software in the future as new test requirements are identified.
Common Industries

Common Material Types

Common Samples

Contract Testing Services
Department of Transportation
Government/Defense
Manufacturing
Medical
And more!

Titanium
Titanium Alloy
Metallic Foil
Nickel
Nickel Alloys
Steel
Alloy Steels
Aluminum
Stainless Steel
And more!

Rectangular
Tubing
Round
Sheet
Plate
Castings
Pipe
Wire
Rod
Bar
Extrusions
And more!
TestResources has the test equipment that you need in order to perform ASTM E8 effectively. Our expert engineers will help you find the right equipment for you test and budget. We offer universal test machines, grips, fixtures and other accessories that are designed in strict accordance with ASTM E8. Contact us to find the solution that is right for you.
ASTM E8 Test Procedure
Step 1: Measure and document the specimen dimensions to determine the smallest point's cross-sectional area. The original cross-sectional area is used for stress calculations.
Step 2: If not using an extensometer, place gage marks on the test samples at the appropriate gage length. The distance between the gage marks after the specimen is broken is used to determine the percent elongation at the breaking point. The gage lengths need to be the same.
Step 3: Zero the test machine.
Step 4: Install the specimen into the grips. If using an extensometer, install the extensometer on the sample and begin loading the specimen. Step 5: Run the test until the sample either fails or fractures.
Step 6: Remove the broken sample. If using an extensometer the software will automatically calculate the elongation, yield and modulus data. If not using an extensometer, fit the fractured ends together and measure the distance between the gage marks to the nearest 0.05 mm (0.002 in).
Give our test engineers a call today for help configuring the best test machine and accessories according to ASTM E8.
Recommended Test Equipment for ASTM E8
Give our test engineers a call today for help configuring the best test machine and accessories according to ASTM E8. We have the broadest range of standard and custom solutions to choose from in recommending the most cost effective systems on the market. 75% of the time we can improve on the current system you are considering.