ASTM E399 is used to determine the fracture toughness (KIc) of metallic materials under predominantly linearly-elastic, plane-strain conditions. This method uses fatigue pre-cracked specimens having a thickness of 1.6 mm (0.063 in) or greater.
We have extensive knowledge of testing metallic materials in accordance with ASTM E399:
We understand the challenges you face.
We can configure a test system with accessories to meet your exact requirements.
We will save you time and money and reduce your risk of making incorrect equipment choices.
We have the products you need. Guaranteed.
When testing according to this method, take the metallic specimens and subject them to slowly, or in special (elective) cases rapidly, increasing crack-displacement force. ASTM E399 is divided into two parts: The first part gives general recommendations and requirements for Klc testing. The second part consists of Annexes that give specific information on displacement gage and loading fixture design, special requirements for individual specimen configurations, and detailed procedures for fatigue pre-cracking. Additional annexes are provided that give specific procedures for beryllium and rapid-force testing.
ASTM E399 Test Procedure
Start by preparing the sample as described in the standard.
Measure the width and thickness of the notched sample and document it.
Load the sample into the fixture. Attach the displacement gauge to the crack opening of the specimen.
Apply the load as described in the standard.
Continue testing until the applied force on the sample has reached the maximum force it can withstand. Record the maximum force.
In order to record the load versus crack mouth opening displacement, measure the size of the crack after fracture, at mid-thickness, two quarter-thickness positions on the crack front and at the intersection of the crack front with the specimen surface.
Metal manufacturing requires the confidence that your incoming raw materials and your outgoing product have the proper strength and ductility needed to manufacture products that meet your advertised competitive specifications. You need accurate, repeatable data you can rely on. Your business counts on cost-effective solutions to simplify and standardized results. TestResources delivers affordable systems, software, control electronics, grips and fixtures.
TestResources is your long-term partner to provide complete solutions for your testing needs. We are not just another machine supplier. Our application engineers make every effort to learn the details of your particular testing needs so they can propose the most budget-friendly solution. We strive to deliver a completely integrated system that meets ALL of your immediate and long-term technical and budgetary requirements.
We are committed to our customers immediate and long-term testing success. Our application engineers have extensive testing knowledge that you can rely on as we help you decide what system is right for your needs. By working with our application engineers, you can be confident that TestResources will solve your technical challenges and save you money.
How do we save you money? We do business differently. While the others are set up to mass-produce cookie cutter test machines on a 'one-size-fits-all' basis our business is set up to provide custom solutions that are made to order. Our business model utilizes a modular design, that we like to call 'Smart Design,' which enables us to inexpensively build a machine to your exact specification. Because of our Smart Design capability, we can offer you a very affordable system for your immediate needs and budget, while giving you an easy and cost-effective path to upgrade the capabilities of your machine and software in the future as new test requirements are identified.
ASTM E399 Test Equipment
Depending on your samples, we recommend either our servohydraulic fatigue test machine or a simpler universal testing machine. Additionally, you may consider our wide range of testing fixtures and grips to go with your machine. By means of our testing expertise and modular product design, we will help find the testing solution that is right for you. Give one of our application engineers a call today for help with creating the best budget and testing plan according to ASTM E399.
TestResources has the test equipment that you need in order to perform ASTM E399 effectively. Our expert engineers will help you find the right equipment for your test and budget. We offer universal test machines, fatigue test machines, grips, fixtures and other accessories that are designed in strict accordance with ASTM E399. Contact us to find the solution that is right for you.
Recommended Test Machines
300 Series Electromechanical Universal Test Machines
Force range of 5 kN to 600 kN (1,125 lbf to 135,000 lbf)
Adjustable test space
The most popular choice for static tension and compression tests
These dual column testers are available in both tabletop and floor standing models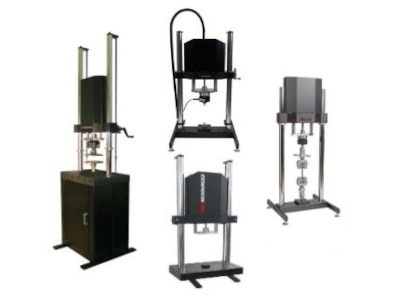 800 Series Fatigue Test Machines
Static and fatigue forces up to 50 kN (11250 lbf)
Frequency ratings up to 15 Hz
Oil-free, all-electric actuator for clean test conditions
Lower purchase, operating, and maintenance costs than hydraulic equivalents
Recommended Testing Accessories