ASTM D7615 is the standard test method for open-hole fatigue response of polymer matrix composite laminates. ASTM D7615 provides for testing composite specimens in tension-tension, compression-compression, or tension-compression cyclic loading. A specimen support fixture, as defined in ASTM D6484, is required for any tests using compressive loading. If testing for changes in specimen stiffness, cyclic loading is halted after a predetermined number of cycles to make a stiffness measurement under quasi-static loading.
Ultimately the test is run until failure of the composite specimen occurs by fracture, rupture, or a predetermined loss of dynamic stiffness. ASTM D7615 is the fatigue testing supplement to the ASTM D5766 test of tensile open-hole strength and ASTM D6484 test of compressive open-hole strength of polymer matrix composite laminates.
By means of our fatigue testing expertise and modular product design, we will help find the solution that is right for you. Give our test engineers a call today for help configuring the best test machine and accessories according to ASTM D7615.
Recommended Test Machine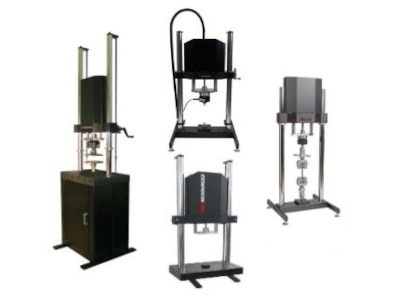 800 Series Fatigue Test Machines
Static and fatigue forces up to 50 kN (11250 lbf)
Frequency ratings up to 15 Hz
Oil-free, all-electric actuator for clean test conditions
Lower purchase, operating, and maintenance costs than hydraulic equivalents
Recommended Testing Accessories
GB5-400 Hydraulic Wedge Fatigue Grip
Load ratings from 25 kN to 1,000 kN (5,625 lbf to 225,000 lbf)
Rated for both static and fatigue testing
Hydraulic actuation
Temperature ratings up to 350°C (662°F)
E3542 Clip On Axial Extensometer
Measures displacement for axial tensile, compression, and cyclic testing
Gage lengths from 10 mm to 50 mm (0.5 in to 2.0 in)
Measuring ranges from 5% to 100% strain
Lightweight and self-supporting
Temperature Chamber
Standard temperature range of -155°C to 620°C (-247°F to 1150°F)
Accompanied by a broad set of accessories that are capable of withstanding the heat or cold
PID controlled internal temperature
Mounts directly to the test frame