The ASTM D412 tension test for rubber and elastomers is a standard test that was designed to provide a way of evaluating the performance of rubber and elastomeric materials. The test provides a quantitative measure of the elongation or change in length that occurs in samples when they are subjected to an applied external force.
If you plan on conducting ASTM D412 we recommend acquiring the test standard from ASTM. There are many important details regarding this test method that are provided which are key to achieving successful results. Every standard provides important environmental conditions, test sample preparation and conditioning requirements, sample dimensions and test reporting expectations. It's critical that you fully understand the standard so that you can set up the test, run the procedure, and report the results requirements.
What Is ASTM D412?
ASTM D412 describes the test equipment and methods needed to test the tensile (tension) properties of vulcanized thermoset rubbers and thermoplastic elastomers.
What Other Standards Apply to Tensile Testing Rubber?
ASTM D412 Test Data
Tensile tests of rubber are used for quality control and for commercial specification purposes.
Important Considerations when Testing According to ASTM D412
Tensile properties are highly dependent on the material formulation and test conditions which including variables such as test speed, temperature, humidity, specimen geometry, and pretest conditioning. Rubber materials should be compared only when tested under the exact same conditions such as outlined in the ASTM D412 standard. Temperature and test speed can have substantial effects on properties and must be controlled. Of course, effects vary depending on the type of material being tested. Also, periods of extension and recovery must be controlled to obtain comparable results.
Cutting die conditioning tip - The condition of the die can be determined by investigating the rupture point on any series of broken specimens. Remove the specimens from the grips of the testing machine, stack the joined-together specimens on top of each other, and determine if there is a tendency for tensile breaks to occur at the same position on each of the specimens. A consistent rupture location indicates that the die may be dull, nicked, or bent.
ASTM D412 Test Method Summary
Determining tensile properties begins with sample preparation and testing of the specimens. Specimens are in the shape of dumbbells, rings or straight pieces of uniform cross-sectional area.
Key properties measurements include tensile stress, tensile stress at a given elongation, tensile strength, yield point, and ultimate elongation, with all measurements done on specimens that have not been prestressed. Tensile stress, yield point, and tensile strength are based on the original cross-sectional area of a uniform cross-section of the specimen. Measurement of tensile set is made after a previously unstressed specimen has been extended and allowed to retract by a prescribed procedure.
ASTM D412 Test Specimens
ASTM D412 provides two methods:
Method A is most common and uses a dumbbell or dogbone shaped specimen. There are six types of dogbone specimens in Method A. The most common specimen type of all is method A type C dogbone specimen.
Method B employs a ring-shaped specimen. There are two cut ring specimens in Method B. Method B results will not be similar to method A.
Test Machines for Rubber Tensile Testing
Long travel universal test machines serve multiple rubber and plastic testing applications and are also capable of performing all quasi static tension/compression tests, such as tensile, peel, adhesion, and flexural testing.
Our single column 240 family machines and dual column 310 family machines exceed travel and speed requirements and force measurement accuracy that is required by the ASTM D412 test standard. Maximum speed of both models is more than 1000 mm/min (40 in/min). Force measurement complies with ASTM E4. Note that the standard requires a grip separation of 750 mm (30 in) minimum, which is also satisfied in the case of the two machines. Talk to an application engineer to make sure you get the right machine.
Test Fixtures for ASTM D412?
Our G7 spring loaded eccentric rollers are simple grips that are popular. They feature a wide jaw with spring loading that adjusts to sample shrinkage automatically.
Pneumatic vise grips are also popular because the sample shrinks as it is pulled, requiring the jaws to adjust automatically. They offer ease of sample loading, consistent clamping force, self alignment, and interchangeable jaws with smooth, serrated, and corrugated (wave) surfaces. For ASTM D412, consider our G229 and G149 pneumatic vise grips.
Thermal Chamber for ASTM D412
Our G2700 test chamber makes it possible to test at elevated (up to 280C° (535F°)) and low (down to -80C° (-112F°)) temperatures. A calibrated temperature sensor is located near the grips for measuring the actual test temperature.
The G7 spring fast action grips suitable for manipulation at high or low temperatures permit loading dumbbells or straight specimens in the grips. This grip is preferred because it offers the shortest time possible to switch out samples, thus minimizing change in temperature of the chamber.
Articles Related to ASTM D412
ASTM D412 Testers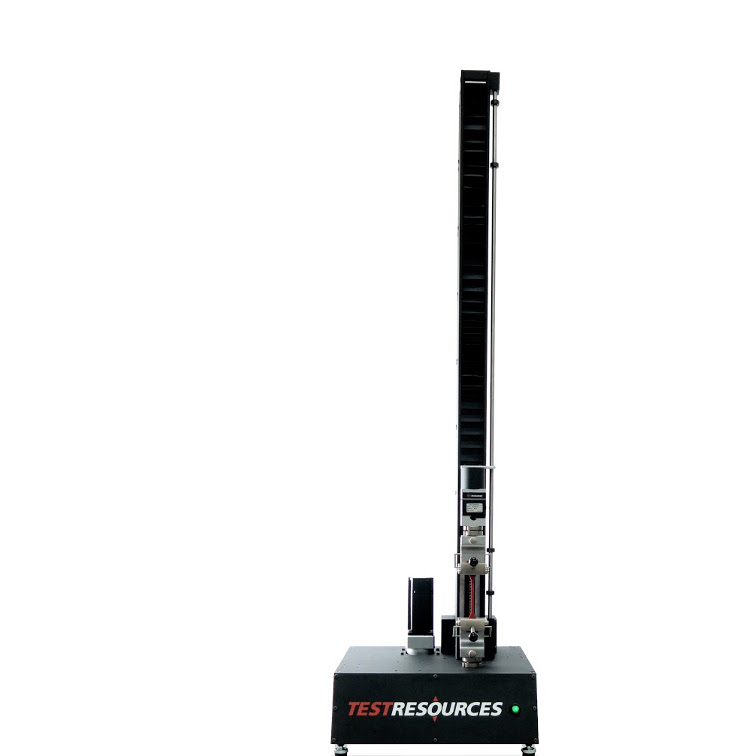 Best Performance
The 240 family is the ideal solution for a wide range of tests and features higher travel and faster speeds compared to traditional universal test machines. The load frame is compact and lightweight which is great if space is limited. Complete system includes controller software, load frame and grips specifically configured for your test requirements.
Most Versatile
The 310 family tabletop machines are configured to your exact needs including performance, flexibility, simplicity and affordability. This frame is best for smaller loads and a higher speed.
ASTM D412 Test Fixtures
ASTM D412 Thermal Chambers
ASTM D412 Strain Measurement
The EC900 is most often performed with special long travel extensometers. Maximum extensometer travel is up to 1,100 mm (43 in). Adjustable clips allow for gripping onto various specimen thicknesses and materials.
TestVE - Video Extensometer
For precise non contacting strain measurement per ASTM E83 Class B1 (ISO 9513 Class 0.5)
ASTM D412 Test Machine Controller Software
ASTM D412 Test Machine Controller Software | ND412
Application specific module features preset settings, test calculations, and graphical test report contents.
Video Recording and Playback Software Module | TestVideo
High resolution video capture of the test. Playback is time synchronized with load data.
ASTM D412 Digital Micrometer | TestGage
TestGage is used with a digital micrometer or caliper to measure sample thickness (depth) and width. After the user makes measurements, data is transferred to the control software.
ASTM D412 Sample Preparation Aids
Note: This is not a complete summary of the standard. Anyone planning to conduct this test should read the full standard.