ASTM D4065 is a practice for gathering test data during dynamic mechanical loading on plastic materials. Dynamic testing of plastic is done to determine the viscous elastic properties. The elastic modulus of plastic materials is dependent on temperature, time or frequency, or both. ASTM D4065 outlines the general concerns for plastic dynamic testing and references other ASTM testing standards for specific dynamic testing procedures. The ASTM standards referenced in ASTM D4065 are listed below.
ASTM D4440 Plastic Dynamic Mechanical Properties: Melt Rheology
ASTM D5023 Plastic Dynamic Flexure 3 Point Bend Properties
ASTM D5024 Plastic Compression Dynamic Testing
ASTM D5026 Plastic Tension Dynamic Testing
ASTM D5279 Plastic Torsion Dynamic Testing
ASTM D5418 Plastic Flexure Dual Cantilever Beam Dynamic Testing
By means of our testing expertise and modular product design, we will help find the solution that is right for you. Give our test engineers a call today for help configuring the best test machine and accessories according to your standard.
Recommended Test Machine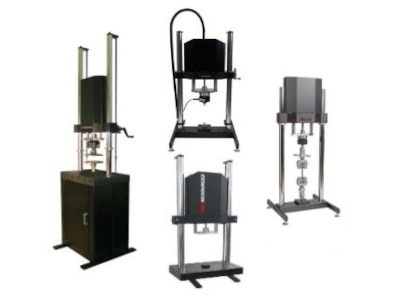 800 Series Fatigue Test Machines
Static and fatigue forces up to 50 kN (11250 lbf)
Frequency ratings up to 15 Hz
Oil-free, all-electric actuator for clean test conditions
Lower purchase, operating, and maintenance costs than hydraulic equivalents
Recommended Testing Accessories