ASTM D1037 is a test which helps determine the properties of wood-base fibers and particle board material. They are often formed into different mats such as particleboards, medium density fiberboards and hardboards or oriented strand boards.
If you plan on conducting ASTM D1037 we recommend acquiring the test standard from the standards organization. There are many important details regarding this test method that are provided which are key to achieving successful results. Every standard provides important environmental conditions, test sample preparation and conditioning requirements, sample dimensions and test reporting expectations. It's critical that you fully understand the standard so that you can set up the test, run the procedure, and report the results requirements.
What Is ASTM D1037?
ASTM D1037 outlines multiple testing procedures thar characterize the mechanical properties of fiberboard and related wood products. Wood fiberboard is an engineered material made by using an adhesive to glue wood chips or wood particles together under high pressure.
Why Perform ASTM D1037?
Mechanical testing is especially important considering that these materials are used in construction applications. Many of the wood products are formed through the adhesion of multiple layers of material.
Part A tests are used for comparison studies with different construction materials.
Part B tests are used for specifications used in procurement and acceptance testing.
ASTM D1037 Test Equipment
Test Machines
Universal test machines serve quasi-static tension compression applications including tensile, peel, adhesion, and flexural testing. The machine force capacity should be chosen by taking into account the highest force needed over the lifetime of the equipment, which is about 5500 lbf in the case of fiberboard. Our machines can perform uniform constant rate of extension (CRE), or constant speed (inches per minute) control mode, as well as load rate (Newtons per second) control. Fiberboard applications tend to need relatively slow test speeds. Force measurement complies with ASTM E4.
Accessories (Jump to a Section)
Test Software
ASTM D1037 Test Machines
Most Economical
The 100 family is the most economical solution but it offers less functionality and flexibility then other systems. The load frame is compact and lightweight which is great if lab table space is limited. Complete system includes controller software, load frame, actuator and grips specifically configured for your biomedical test.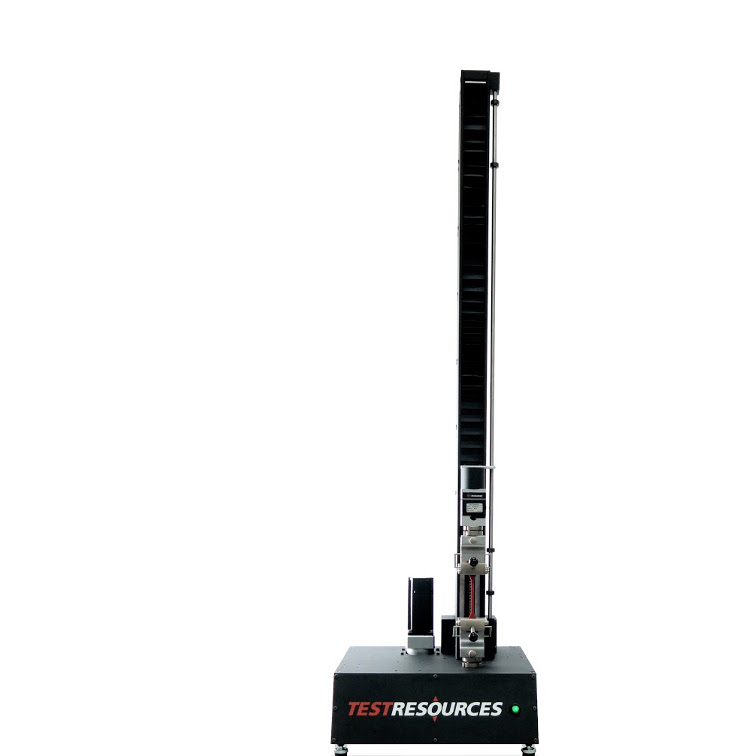 Best Performance
The 240 family is the ideal solution for a wide range of tests and features higher travel and faster speeds compared to traditional universal test machines. The load frame is compact and lightweight which is great if space is limited. Complete system includes controller software, load frame and grips specifically configured for your test requirements.
Most Versatile
The 312 family tabletop machines are configured to your exact needs including performance, flexibility, simplicity and affordability. This frame is best for smaller loads and a higher speed. Complete system includes controller software, load frame and grips specifically configured for your test requirements.
ASTM D1037 Testing Accessories by Section
Section 9
Static Bending Tests - determine the flexural properties, such as modulus of rupture and apparent modulus of elasticity. Long-span bend specimens are desired so that the effects of deflections due to shear deformations are minimized and the values of moduli of elasticity obtained from the bending tests will approximate the true moduli of the materials.
G22 Flexural Bending Fixture
Long Beam Fixture
E3540 Deflectometer
Section 10
Tension Parallel to Surface - where the specimen is clamped with self-aligning and self-tightening, mechanical wedge grips.
Section 11
Tension Perpendicular to Surface (Internal Bond) - ASTM D1037 internal bond testing involves bonding specimen blocks to the top and bottom surfaces of the test specimen - see Figure 8. The loading block bond must be stronger than the expected failure force of the specimen. The specimen blocks are 2-inch square by 1-inch in thickness and made from steel or aluminum.
Section 12
Compression Parallel to Surface - measure compressive strength and axial stiffness or modulus of elasticity and stress at proportional limits with compression platens.
Section 13
Lateral Nail Resistance - is a measure of the panel's resistance to lateral movement of a nail through a panel.
Section 14 & 15
Nail Withdrawal and Pull Through - measure the resistance of a panel to having the head of a common nail or other fastener pulled through the panel. This test is to simulate the condition encountered with forces that tend to pull paneling or sheathing from a frame.
G235 - 1 kN
G235 - 25 kN
Section 16
Direct Screw Withdrawal - Screw holding tests are made on screws threaded into a panel to measure the resistance to screw withdrawal in a plane normal to the face of the panel. For numerous applications, the withdrawal resistance of screws from the edge of the panel is desired. When that value is required the screw withdrawal resistance in the plane parallel to the face is determined.
G325
Section 17 & 18
Hardness and Hardness Modulus - The modified Janka-ball test method is used to determine panel hardness and indentation resistance. The Cone shown in ASTM D1037 fig 14 is not necessary.
G990-10
Section 19
Shear in the Plane of the Panel - Shear tests are made on specimens prepared by laminating each specimen so that the plane of the shear failure will be in the panel proper and not in the glue lines.
G17
Section 26
Interlaminar Shear Interlaminar - shear refers to shear in the plane of the panel and is made on specimens bonded between two steel loading plates loaded in compression on the edge to obtain shear strength and deformation properties of the panel. The procedure used closely follows ASTM C273. The interlaminar shear strength test offers the additional advantage that shear deformation data can be obtained when desirable.
GC273-193 Shear Test Fixture
Section 28
45 Degree Compression Shear Tests destructively tests the compressive-shear strength of a panel specimen without gluing or clamping. It provides an indication of the bond quality of a material subjected to shear deformation.
45 Degree Shear Fixture
ASTM D1037 Test Machine Software
ASTM D1037 Test Machine Controller Software | ND1037
Application specific module features preset settings, test calculations, and graphical test report contents.
Video Recording and Playback Software Module | TestVideo
High resolution video capture of the test. Playback is time synchronized with load data.
Note: This is not a complete summary of the standard. Anyone planning to conduct this test should read the full standard.