ASTM C1211 measures the flexural strength of advanced ceramics at elevated temperatures. Flexure stress is computed using simple beam theory assuming the material is isotropic, homogeneous, the moduli of tension and compression are identical, and it is linear elastic. Use a three-point and four-point flexure tests for this standard.
ASTM C1211
For ASTM C1211, use rectangular cross section specimens. The flexural strength of the specimens can be influenced by outside factors. Remember to consider the testing rate, test environment, specimen size, specimen preparation, and test fixtures.
This method determines the flexural strength at elevated temperature and ambient environmental conditions at a nominal, moderately fast testing rate. The flexural strength under these conditions is not always the inert flexural strength. Flexure strength at elevated temperature may be strongly dependent on testing rate, a consequence of creep, stress corrosion, or slow crack growth.
A universal testing machine can be used alongside a furnace to test your ceramic. By means of our testing expertise and modular product design, we will help find the testing solution that is right for you. Give one of our application engineers a call today for help with creating the best budget and testing plan according to ASTM C1211.
Recommended Test Machine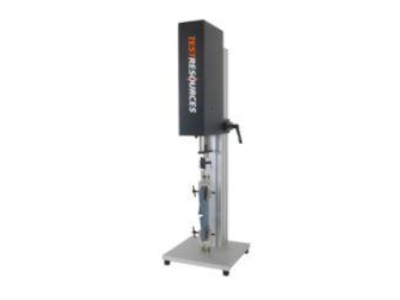 100 Series Universal Test Machines
Forces up to 10 kN (2,250 lbf)
Low force tabletop systems
Modular series of five frame options with adjustable test space
Affordable testing option for tension, compression, bend, peel and much more
300 Series Electromechanical Universal Test Machines
Force range of 5 kN to 600 kN (1,125 lbf to 135,000 lbf)
Adjustable test space
The most popular choice for static tension and compression tests
These dual column testers are available in both tabletop and floor standing models
Recommended Testing Accessories
Elevated Temperature Furnace
Maximum operating temperature options of 500°C or 1200°C (930°F or 2,200°F)
Minimum operating temperature of 300°C (570°F)
PID controlled temperature
Utilizes 120 V or 240 V power