Dental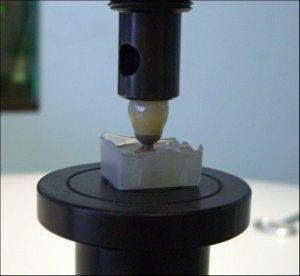 The dental implant industry is one of the fastest growing areas in dental supply and care. Health benefits, such as bone growth and stimulation along with their aesthetic appeal, attribute to current market demand. A rising trend of increasingly smaller implants has researchers motivated to optimize current designs. TestResources can provide the testing materials and guidance to accurately evaluate function and longevity of a new or improved design.
A dental implant is typically crafted from titanium that is attached in, on, or through the mandible to be used as a support for a prosthetic tooth. The three major forms of dental implants are endosseous which are placed in the bone, subperiosteal which lie on top of the bone, and transosteal which pass through the bone. The most popular dental implant is a root-form endosseous implant which is screwed into the jawbone and becomes stable through osseointegration with the jaw. Dental implants can be used to support crowns, bridges, dentures, or can be used as anchorage for orthodontic tooth movement.
Testing your implant according to standards
TestResources can guide you through the testing process according to standard recommendations. For example, the ISO 14801 standard specifies a method of fatigue testing of single post endosseous dental implants of the transmucosal type and their premanufactured prosthetic components. It is most useful in comparing different designs and sizes of endosseous dental implants.
Testing should be performed on specimens representative of the finished device, a multi-part endosseous implant shall be tested as assembled according to its intended use, and testing shall be carried out for the worst-case condition. The FDA recommends that mechanical testing of dental implants mimic actual intraoral as possible with both compressive and shear forces with no lateral constraint occurring.
Other Mechanical Tests
Fatigue – The fatigue test entails simulating the functional load on the dental implant under the worst-case condition.
Flexural – A static flexural test is used to determine the maximum strength of the dental implant.
Torque – A torque test determines the torque necessary to strip the head of the dental implant.
Compression – A compression test consists of compressing the dental implant longitudinally until it ruptures.
TestResources offers a wide range of testing machines and grips to be able to test for fatigue, flexural, compression, and torque mechanical properties of dental implants according to ISO and FDA standards. Contact an application engineer today for help testing your innovative dental implant.
Related Articles
Applicable Standards