V Notch Maker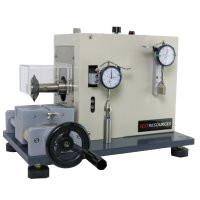 V-Shaped Notch Maker is a sample preparation aid for Izod, Charpy, and tensile impact tests. This small machine creates V-Notch specimens in plastics used in an Izod & Charpy impact. The V-Shaped Notch Maker creates samples in accordance with a variety of testing standards including:
The 402V V-Shaped Notch Maker quickly cuts your plastic samples in a safe manner and is easy to use. To use this sample preparation aid, first place the rectangular shaped sample into the sliding table. Next turn the machine power on and set the blade speed. Turn the handle and watch as the table slides your sample under the blade, creating a v-shaped notch. The 402V's blade is encased in a plastic shell to keep the blade away from your hands and also to catch the sample shavings. You can then measure the depth of the notch with the dial indicator provided on the front of the machine.
Call our fixture engineer today and let them know if you will be using an ASTM or ISO standard for your Izod, Charpy for tensile impact test. We can configure a 402V V-Shaped Notch Maker to your specifications.
Contact Us
Need Help
Talk to one of our Application Engineers to help you find the right solution for your test applications
Contact Us Now