We offer a wide variety of capabilities when it comes to environmental chambers and ovens. We have solutions for virtually any non-ambient test condition. We can handle all of your environmental testing needs from chambers, to grips, to pull rods (cooled and standard), to extensometers and carts for moving the chambers around. We take the risk and challenges out of testing.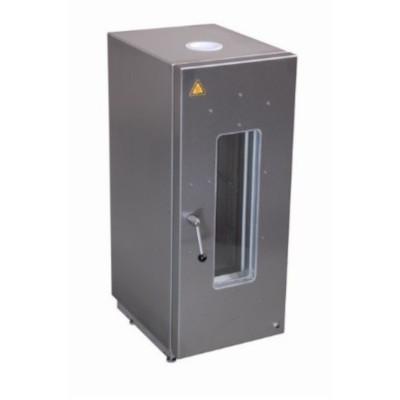 | | |
| --- | --- |
| Load Frame Types | Single Column, Dual Column or Biaxial |
| Temperature Range | −185°C to +620°C (-300°F to 1150°F) |
| Humidity Range | -40°C to +150°C (-40°F to 300°F), 10 to 90% Relative Humidity |
| Interior Width Range | 152.4 mm to 1524 mm (6 in to 60 in) |
| Interior Height Range | 254 mm to 2286 mm (10 in to 90 in) |
| Interior Depth Range | 152.4 mm to 1524 mm (6 in to 60 in) |
Environmental Chambers Designed to Customer Requirements
Due to the unique nature of environmental testing, all chambers are designed to customer requirements in a wide variety of widths, depths, heights and configurations in order to fit the test space and specifications. Multi-sample fixturing can be accommodated within one chamber with the proper configuration. Getting the right chamber dimensions is an important step in the configuration process. Your sample, grips and pull rods might all fit, but once you actually begin running your test, you might end up with a deficit. We take extra time at this step to ensure your chamber meets all of your test space requirements including sample elongation, maximum travel and load frame restrictions.
| | |
| --- | --- |
| A | External Height |
| B | Internal Height |
| C | External Width |
| D | Internal Width |
| E | Viewing Window Height (Optional) |
| F | Viewing Window Width (Optional) |
| G | External Depth |
| H | Internal Depth |

Low, High and Humidity Chambers
Testing at non-ambient temperatures adds a new layer of complexity to your test. Productivity, cost of ownership, ease of use, and operator safety are all affected by the need to test at high and low temperatures and should be taken into consideration. A properly configured temperature chamber will provide optimized heating and/or cooling rates, reduced thermal gradients, and superior thermal stability.

Environmental Chamber Types:
Low Temperature
High Temperature
Low/High Temperature
Humidity
Special Features and Options:
Heated window options for low temperature testing, so you do not have to deal with frost build up on windows
Fast ramping to set point temperatures
Forced air convection blower for better thermal homogenization
Close fit load train port inserts means less thermal losses, better temperature consistency and less thermal gradients
Temperature compensated load cells, lessen the thermal effects on load readings
Water cooled pull rod options, that will limit thermal effects on the load cell
Optional carts for moving the chamber in and out of the load frame when not in use. Eliminating the possibility of operator injuries from lifting heavy equipment
Breakaway chamber floor option to reduce the risk of chamber destruction in the case of a collision with a bottom mount hydraulic actuator
Superior insulation, resulting in cooler external temperatures
Door Interlocks that cut power to the heaters or cooling devices and fan, when opened to limit exposure to the operator
Rear protection cover for operator safety
4 Station/ Sample Chamber
Miniature Extensometer for Temperature Chambers
Clamshell High Temperature Heater
Push Pull Rods for Environmental Chambers
G175 Tensile Grips for Environmental Chambers
Temperature Chamber with Wedge Grips
Tensile Grips for Environmental Chambers
Single Column, Dual Column or Biaxial Load Frames for Environmental Testing
Dual Column testing is the most common type of load frame used for environmental testing but it's certainly not the only type. Not only does your sample, grips and pull rods have to fit inside the chamber but your chamber needs to fit within the confines of your test machine's load frames. Chambers are designed to fit between the columns of your materials testing machine.
If your test requires you to frequently move the chamber, we offer optional sliding rails and U shaped load train port inserts which make moving the chamber in and out of the load frame a breeze.
Complete Solutions and Expectations
When you partner with TestResources, you can rest assured that you will have the best solution for your testing needs at the most cost-effective price available. In just a few short questions about your application, requirements and restrictions, our engineers are able to propose a cost-effective solution that meets your test specifications and solves challenges that you may not foresee. We take the time to find out what is important to you and the success of your test.
Axial Torsion Machine Chamber
High Temperature Chamber System
Multisample Rubber Tension Fatigue
Chamber for Single Column UTM
Chamber for Short Single Column Test Machine
Rubber Tensile Multisample Chamber
High Temperature Plastics Tension Fatigue
Don't see what you are looking for? Contact one of our experienced application engineers to configure the best solution for testing at non-ambient temperatures and humid environments.
Fits Any Brand Test Machine
Our environmental chambers are designed to fit any brand of test machine. We offer modular design principles that allow the environmental chambers to be used on test machines from TestResources, Instron®, MTS®, Tinius Olsen® and almost every other brand of machine.
There are so many chambers to choose from it can be overwhelming and you certainly don't want to make the mistake of selecting the wrong one. Give us a call today to speak to one of our experienced engineers that will work with you to configure a solution based on your test requirements.
Ready to upgrade you test machine?
Talk to one of our Application Engineers to get started.