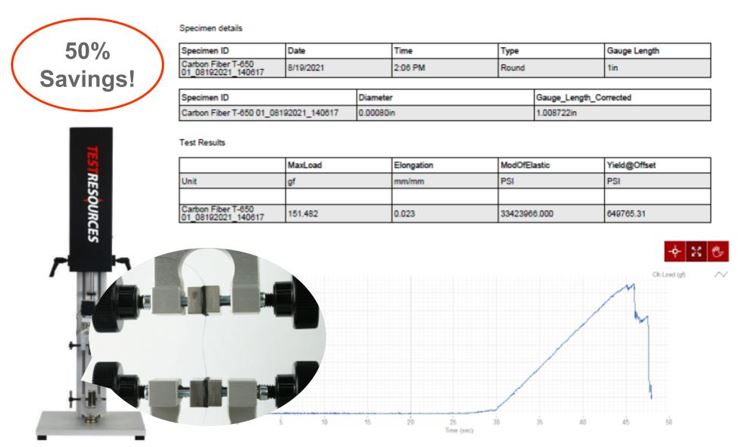 When you work with us, you get the best engineers to solve your testing and budgetary challenges. Whether you're new to testing or a testing expert yourself, we can help you optimize your system AND YOUR BUDGET.
☑
Turning Innovation into a Team Sport
☑
Made to Go Where Others Won't
Expect Great Things When You Work With TestResources!
Get exactly what you need with our extensive product catalog
We have a solution for just about everything or we will engineer it for you - even more options than we can possibly put on our website
Get exactly what you need in one place
We can modify any product to meet your needs
Get the expertise + Get the best solution = Get the best results
We are dedicated to your success
Don't get stuck selecting the wrong product by yourself, we want to help you be successful in all of your testing ventures
75% of the time we can find you a better solution at a better price
Get a solution to meet your exact specifications & budget
We can modify, customize or completely design a system from scratch
Each system is designed to meet your exact requirements
We give you more options than other companies so you can optimize your specifications and budget
See some of our customer specific application solutions →
+ Dedicated Support
With over 20 years of providing support around the world we have it figured out. TestResources is recognized globally for delivering reliable, low maintenance and budget friendly solutions. It all starts with well-designed products, the right people and a machine with easy to replace components.
☑
In-person Support Options
Contact us and see for yourself why TestResources is the best choice for your testing needs! →
This Is Why Leading Organizations & Universities Around the World Choose TestResources!
Leading organizations and universities around the world trust TestResources' quality, versatile and affordable test machines. Our machines help determine the quality of products for a diverse clientele, ranging from aerospace exploration to medical innovation. From the big-names to start-ups, we provide creative solutions for every testing need.
But don't just take our word for it! See what our customers's have to say:
Quote
I have purchased several TestResources' machines over the last 13 years. Their prices are fantastic, their service and support is top notch and they are flexible when I need to customize my system. I would recommend TestResources to anyone looking for a high quality test machine at a reasonable price.
Quote
Jeff and Kurt along with the install team were a pleasure to communicate with and did a great job minding all of the needed details. Our equipment is actually usable now and is significantly improved from the original setup we had.
Want to Know How We Compare to Other Companies?

We encourage you to compare us against the other big-name companies. One phone call with us and you will see the difference.
Compare us to Instron's low force test systems: Instron® 1 kN (225 lbf) Test Machine Comparison
Compare us to Instron's mid force test systems: Instron® 10 kN (2250 lbf) Test Machine Comparison
Choosing TestResources Means You've Made the
RIGHT

Choice!

Whether you know exactly what you want or need thinking through your requirements our engineers are happy and able to help. Give us a call today to get started.